Glenn Beck Blasts "Unprofessional" Tomi Lahren, Says Host Was Never Fired

Deadline
4/17/2017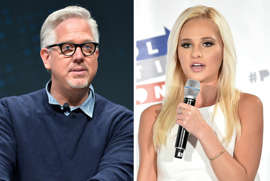 Looks like the legal fires are still burning bright at Glenn Beck's The Blaze as the conservative outlet today countersued the "inappropriate and unprofessional" Tomi Lahren for actually breaching her contract.
The move comes just over a week after the host took the Texas-based Blaze to court for allegedly pink slipping her and denying her access to her well followed Facebook page – claims Beck's gang deny and say Lahren is suspended but still employed and actually receiving payment and benefits.
"Her comments on The View (which demonstrated a apparent flip-flop from opinions she had previously expressed) were simply the latest in a series of events that led The Blaze management to conclude that The Blaze did not intend to extend her contract beyond the end of its term in September 2017," says the 21-page temporary restraining order and wide damages seeking filing Monday in Dallas. Citing a slew of issues with the "difficult to work with" Lahren even before The View interview, Monday's countersuit notes that her remarks on the Barbra Walters co-created show "effectively called many of TheBlaze's employees, viewers, and readers hypocrites."
While appearing on the ABC daytimer on March 17, Larhen herself said she'd "be a hypocrite" if she agreed with both the conservative mantra of limited government and the government's power to "decide what women do with their bodies." She ended the surprisingly statement that was at odds with what she has said on her Blaze show over the years with "stay out of my guns, and you can stay out of my body as well."
Soon afterwards, Beck's multi-platform outlet suspended the now seemingly pro-choice Lahren for a week. The show was shut down for good by The Blaze in late March. On April 7, Lahren sued The Blaze for supposedly firing her and terminating her two-year contract.
A claim that the outlet denied then and struck back with today.  "Lahren's breach of her obligations in the Employment Agreement has injured The Blaze by negatively impacting its reputation and goodwill among its current and prospective viewers and readers," the paperwork says. Claiming that they merely exercised the "pay or play" clause in Lahren's current contract, The Blaze is also saying that none of this should have gone to court in the first place because of the arbitration aspects of her employment deal.
Oddly enough or perhaps telling, neither the social media friendly Lahren or Beck have taken to Twitter today in this latest twist in what could become a blazing battle.
Eliot Burris of Dallas firm McDermott Will & Emery LLP is representing The Blaze in the countersuit.