Jennifer Lopez stuns in first post-split appearance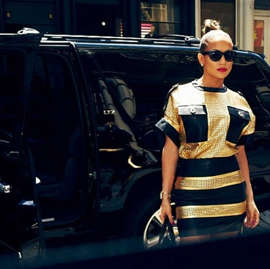 By Wonderwall Editors

Jennifer Lopez has been in enough high-profile splits to know the rules of the Hollywood breakup. Rule #1: Look flawless in your first post-split appearance.

That's a big check. The singer made her first public appearance since calling it quits with Casper Smart today, and boy, did she rock it. J.Lo attended the listening party for her forthcoming album, "A.K.A.," wearing a curve-flaunting gold and black mini dress. J.Lo paired the look with a trendy topkont, black heels and oversize sunnies.

"Straight away she took pictures with everyone," an insider at the event told E! News. "She was really nice to everyone and seemed happy."

Jennifer made sure to post tons of happy -- and sexy -- photos from the event on Instagram for her ex-boyfriend fans to see.

Your move, Casper.