Julia Roberts' marriage to Danny Moder on the rocks: Report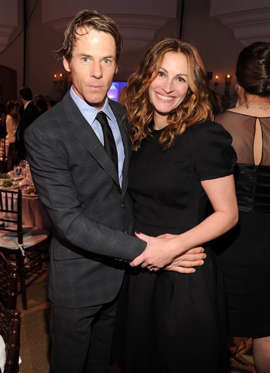 Is pretty woman headed for a not-so fairy-tale romance ending?

We've got both feet firmly planted in rumor on this one, but The National Enquirer claims that Julia Roberts and her husband Danny Moder are headed for divorce. Julia and Danny have already beaten the Hollywood odds by staying hitched for 12 years -- and they have three kids together. The Enquirer says that Julia cheated and was recently spotted getting flirty with Mark Ruffalo, her co-star in "The Normal Heart."

RELATED: Sexiest Southern stars

But this isn't the first we're hearing of trouble in paradise for this twosome. Star Magazine trotted out similar rumors back in May, saying that Julia's domineering nature is to blame. A source told the magazine that Moder had enough with his wife's manipulations and lies. We should note that, even a few months into the marriage, The Daily Mail claimed Julia and Danny were headed for divorce -- because they were unable to have children together. Of course, we know how reliable that turned out to be.

RELATED: Celebs without makeup

Julia, 46, and Danny, a 45-year-old cameraman, don't spend a lot of time out in public (last August they spent some family time on the beach, and they looked pretty happy back then) so maybe the tabloids are punishing them for trying to be normal (God forbid!). Not to mention Julia's rocky romantic past: calling off her wedding with Kiefer Sutherland a couple decades ago and her brief marriage to Lyle Lovett.

The actress has had a rough year -- despite accolades for "August: Osage County" -- with the recent suicide of her younger half-sister and the family drama that surrounded her death. Let's hope they keep on beating the odds.