Justin Bieber jokes about joining KKK, uses n-word (again) in another video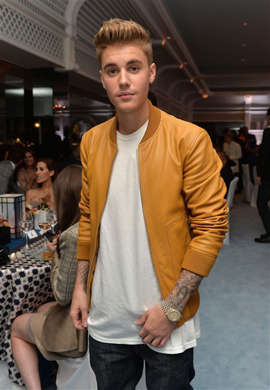 Justin Bieber and his camp burped out a lengthy apology this week after a 2009 video surfaced showing him telling a racist joke and using the n-word. But his troubles aren't over.

After the London Sun revealed it had another video, shot around the same time as the first, that showed the popster, 20, changing the words to his Usher-penned 2009 hit "One Less Lonely Girl" to "One Less Lonely [N-word]," TMZ released the footage.

In the 24-second clip (watch the horribleness here), Bieber jokes about joining Ku Klux Klan: "If I kill you, I'll be part of the KKK, and there will be one less lonely [n-word]." According to TMZ, Justin and his team "want this video out, because he wants to own what he did." The story his people are floating: Bieber was parodying a parody video of a comedian (and we use that word very, very loosely) doing the same thing.

A penitent Biebs later "told both Usher and Will Smith about the videos, saying he knew almost immediately it was a stupid thing to do. ... Usher took him into a room and showed him historically racist videos to drive home how hurtful these words can be."

Now, he "wants people to see the video and he wants to accept responsibility."



Meanwhile, TMZ says the release of the original clip, in which Bieber repeatedly uses the n-word as he tells an offensive joke involving chainsaws, came after he was subjected to "a million dollar shakedown." Seems it started two months ago, when a lawyer, retained by a guy who had apparently worked on one of Justin's video projects and somehow got access to his hard drive, asked for $1 million to keep the footage under wraps.

When Bieber's reps balked, he dropped the price to $800,000, and after several more calls, he recently asked for $500,000. The attorney was apparently told he "wasn't even in the ballpark" and got the brush-off from Bieber's people. The clip, which TMZ says it obtained four years ago but chose not to make public, surfaced on Sunday.

The singer's camp apparently "wouldn't make the deal because they didn't think the tape was that harmful ... especially because Bieber was 15-years-old when he told the racist joke."

In his mea culpa statement, Justin called his remarks a "childish and inexcusable mistake." Thatdoesn't really explain this highly questionable graffiti he spray-painted last year, though.