Lady Antebellum dish about how touring has changed with a baby on the road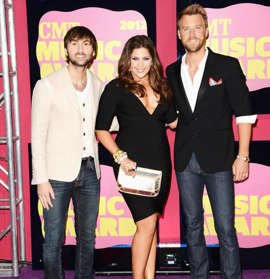 Lady Antebellum have been a mainstay on the country music scene for many years now. But while touring is just old tricks for them these days, something that's new for the members of Lady A is touring with a little one!

Like us on Facebook?

"I have my own family bus with my husband and daughter," Hillary Scott said. "We have a little bit of separation anxiety. It's nice to be able to have time together as a family, but I definitely miss those late nights with a bottle of wine and talking through the show."

Lead vocalist Charles Kelley agrees with Hillary. "It gets really lonely just Dave and I," he said. "We were driving back the other day and Dave had brought a separate bus because he had some family out with him. And I was pretty bored. I was like, I guess I'll just enjoy this glass of wine by myself."

But Dave Haywood recently announced that his wife, Kelli Cashiola, is pregnant with their first child, so it seems like more changes are heading to the Lady A tour life.

"I feel like I'm learning by watching pretty well. We've had Eisele [Hillary's 1-year-old daughter] out since she was 3 months old, so it's been fun to learn by example from Hillary. We've gotten some practice with techniques for holding babies and calming babies. I've got a great example here with Hillary."

It's pretty remarkable that even all these years later, Hillary, Charles and Dave still love touring together and actually being together when the shows are over -- even when they tour for most of the year.

"We never get sick of each other," Chris said. "It's nice. As opposed to rock bands where they're away from home for six months at a time, we'll do what country calls weekend warrior stuff. We'll get to tour Thursday, Friday and Saturday and then come home and have a nice few days. We like it that way. It keeps us fresh. You don't want to take too much time off."

We're glad to see that even with all the changes to their personal life that Lady A still love rocking out together. And don't forget to check out Lady Antebellum when they hit the stage at the 2014 CMT Music Awards in June 4!