Late Show With Stephen Colbert Mocks Rachel Maddow's Trump-Tax Reveal

TVLine
3/16/2017
Rachel Maddow's much-hyped yet ultimately unsatisfying exposé
 of some leaked pages from President Donald Trump's past tax return,
Stephen Colbert
donned a deep-V and blazer and put his own spin on the MSNBC host's reveal.
This just in: Stephen has acquired a special joke. He's going to share it with the world. Shortly. Keep watching. #LSSC pic.twitter.com/miSmB3ZYEw

— The Late Show (@colbertlateshow) March 16, 2017
"I hold in my hand something very significant. It is a joke, a joke that we have confirmed has been heard by Donald Trump," Colbert said, dressed as Maddow, in a video bit released ahead of Wednesday's Late Show.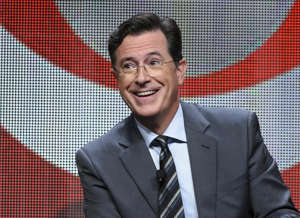 © clessard In this Aug. 10, 2015 file photo, Stephen Colbert participates in the "The Late Show with Stephen Colbert" segment of the CBS Summer TCA Tour in Beverly Hills, Calif.
The gag: Colbert takes the longest possible route to revealing the joke in question, "Why did the chicken cross the road?," much like The Rachel Maddow Show took its time getting into the details of Trump's 2005 1040 form on Tuesday. (Plus, he totally nails her mannerisms, right?)