Logan: Hugh Jackman wants Shah Rukh Khan to replace him as Wolverine

Hindustan Times
3/6/2017
© Hindustan Times You would probably know that Logan is going to be Hugh Jackman's last time playing the iconic mutant Wolverine on film. But do you know what problem that raises? Who's going to replace Jackman in the role - because there is no way Fox is giving up their most lucrative franchise.
In an interview with Rajeev Masand, Jackman casually threw out a suggestion: Shah Rukh Khan.
While no one should take this seriously, it's a great example of Hugh Jackman's charisma. He knew he was being interviewed by an Indian journalist, and it's a question he has been asked hundreds of times before, so for him to come up with SRK's name like he did will surely endear him to fans - both international and Indian.

Logan, his final Wolverine movie, is due out on March 3. He first played the character in 2000's X-Men. 
Recommended: Bollywood & Hollywood celeb moments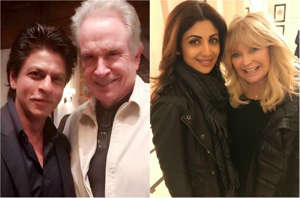 More From Hindustan Times

Hindustan Times