Madonna returns to Detroit for school visit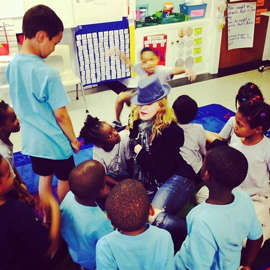 Madonna returned to her roots on Tuesday to talk to young school children in Detroit, Mich.

Like us on Facebook?

Madge, who was born in the state, paid a visit to the Detroit Achievement Academy, which opened last year.

The school was founded by entrepreneur Kyle Smitley, who pulled in millions of dollars in donations to provide local kids with a "world-class" free education in a city which has been devastated by widespread unemployment and poverty in recent years.

In a post on Facebook, the legend uploaded two snaps showing her talking to kids on a colorful classroom mat, alongside the caption, "Sharing stories with kids at the Detroit Achievement Academy! Very impressed by Kyle Smitley and her team doing what they can to bring education back to the Motor City!"

RELATED: Which celeb inspires Sarah Michelle Gellar?

Madonna also explained that she bonded with the youngsters over their shared love of Michael Jackson and Pharrell Williams, who she has previously collaborated with, adding, "Discussing Michael Jackson vs. Pharrell Williams! Watch out! Detroit is coming back!!!!"