Mama June Shannon on Her Kids Being Overweight: 'I Don't Want Them to End Up Like I Did'

People
4/5/2017
Mama June Shannon
has long struggled with her weight, but now that she's lost 300 lbs., she hopes her daughters
Lauryn "Pumpkin Shannon,"
17, and
Alana "Honey Boo Boo Thompson,"
11, will learn from her mistakes.
"I don't want them to go through what I went through in school or with surgery," she says. "I've seen them lose and gain weight, but I don't want them to end up like I did at 460 lbs. Who would want that?"
After a lifetime of unhealthy eating and lack of exercise, Shannon packed on the pounds. On their now-canceled series Here Comes Honey Boo Boo, the family famously binged on junk food and chowed down on "sketti," a dinner dish, which consists of noodles slathered in butter and ketchup. The public criticized Shannon for her own weight and her daughters.'
© WeTV
Since then, Shannon has spent upwards of $75,000 for her drastic transformation — all documented on WE tv's Mama June: From Not to Hot where she had gastric sleeve surgery, breast augmentation, and skin removal surgery on her "turkey neck," "bat wings," and stomach, the last of which saw her get a total of 9 lbs. of skin removed.
"I do worry about their health, but I'm not going to say, 'You got to eat salads all the time,' " says Shannon of Lauryn and Alana. (Shannon also has a 20-year-old daughter Jessica "Chubbs" Shannon and eldest daughter Anna "Chickadee" Cardwell, 22, from whom she is estranged.)
© Perry Hagopian
Shannon says she would support her daughters if they opted to take a similar surgical path to her own. "If they do have to have that done, they've got to realize it's not just a surgery thing, you have to change body, your frame of mind, what you eat. Everything."
© D Dipasupil/Getty;We TV

For now, Shannon says the family has been making healthier food choices, like swapping fried chicken for baked, and cutting back on the sweets. "Nobody taught me how to cook," she says. "So it's a learning experience all the time and we look up new recipes."

The finale of Mama June: From Not to Hot airs Friday at 9 p.m. ET on WE tv. 
Celebrity weight transformations: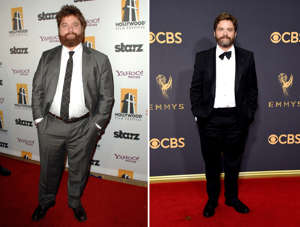 Celebrities who have shed weight