Milo Ventimiglia Says Producers Wanted Someone 'Completely Different' for His 'This Is Us' Role

Variety
5/31/2017
It's hard to picture anyone portraying the beloved Jack Pearson on "This Is Us" more perfectly than Milo Ventimiglia.
But in an interview with Freida Pinto as part of Variety's "Actors on Actors" series, he revealed that he wasn't initially who the producers and directors were looking to cast for the role.
"They wanted somebody completely different," he shared. "I walked in with my beard and my long hair and set my motorcycle helmet down and they went, 'Who is this guy?'"
Of course, Ventimiglia ended up being cast as the patriarch in NBC's breakout family drama.
"I think they just saw something different than someone who had practiced the words, and they picked me," he said.
© The Associated Press This image released by NBC shows Mandy Moore, left, and Milo Ventimiglia in a scene from "This Is Us." The season finale for the popular time-twisting family drama will air Tuesday at 9 p.m. EST on NBC. (Ron Batzdorff/NBC via AP)
Ventimiglia, whose previous credits include "Gilmore Girls" and "Heroes," added of the role, "I don't think it was so much me choosing it as it choosing me."
The audition came just as Ventimiglia finished the independent film "Devil's Gate." Shortly after, he had two television gigs that didn't work out.
At that point, Ventimiglia said he began to focus on his personal life rather than chasing jobs.
"It's kind of art imitating life," he said of having the "This Is Us" role pop up. "I was just trying to be just a man existing as a man, and here's this man who's just trying to provide for his wife and his family and all of that. It was so simple and beautiful that I thought, 'I'd just love to do it. I'd love to be a part of it.'"
The scruffy look Ventimiglia sported in his audition was born during this in-between period. Following in the footsteps of actors like Robert De Niro, he decided to grow out his hair between jobs, adding that an actor never knows what his next role will be.
"You don't know if you're going to be swinging a sword in ancient Egypt or if you're going to be playing a cop walking the streets of New York," he said.
His look ended up working for the role of Pearson.
"You're in the right place at the right time as you're supposed to be," he said.
The interview will air in its entirety on Variety's "Actors on Actors" Season 6, presented by Shutterstock, which premieres June 13 on PBS SoCal.
Related slideshow: Canceled, renewed or ending -- your favorite show's fate (via Photo Services):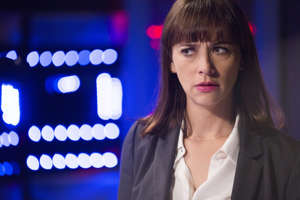 Canceled, Renewed or Ending?