Notorious B.I.G.'s son Christopher Wallace Jr. graduates high school, poses with mom Faith Evan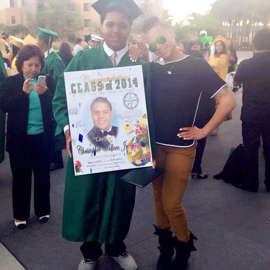 Big Poppa would have been proud! On May 29, Christopher Wallace Jr., the only child of the late Notorious B.I.G., graduated from high school at Santa Margarita Catholic High School in California.

Wallace Jr., 17, posed in his green cap and gown with his mother and Biggie's widow Faith Evans to celebrate the momentous occasion.

"My first born son @cj_toa & I #proud," R&B singer Evans captioned the photo.

Evans married the Notorious B.I.G., whose real name was Christopher Wallace, in 1994 after meeting weeks before on a photoshoot. They welcomed their first (and his only) son two years later.

Wallace Jr. was less than a year old when his father was murdered in a drive-by shooting in March 1997.

MORE FROM WONDERWALL:

Fashion Offenders: Rihanna, Kim K. and Eva Longoria

Fashion Offenders: Lindsay Lohan, Lena Dunham and Anne Hathaway

Like us on Facebook?