Randy Travis makes rare appearance since life-threatening stroke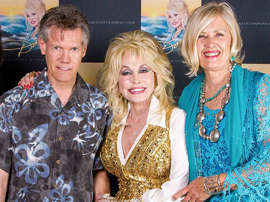 Randy Travis has kept himself out of public view since suffering life-threatening health issues a year ago, but he ventured out last weekend to attend a concert by his friend Dolly Parton and we've got new photos of the 55-year-old crooner looking well on the road to recovery!

Randy's fiancée Mary Beougher decided to surprise him by taking him to Dolly's sold-out show in Thackerville, Okla. The couple was joined by close friend and fellow country star Janie Fricke. 

Randy -- who was fighting for his life in the hospital one year ago after suffering a stroke and undergoing surgery to relieve pressure on his brain -- walked from his bus into the venue and to his seat just using a cane, according to Dolly's publicist Kirt Webster. Giving an update on the country star's overall health, Kirt added, "Randy is doing great and is expected to make a full recovery."

Kirt said that Randy enjoyed the show and even shed a tear during the finale of "I Will Always Love You."

Dolly gave a shout-out to her friend during the concert. "There are some people you just love and admire for their talents. Tonight, one of those people are here. I actually think he is hiding somewhere way back there or dressed up like Kenny Rogers. But anyway, Randy Travis is here. So wherever you are, I hope you are enjoying the show," Dolly said onstage.

"It was so great to have Randy Travis at my show," Dolly posted on her official Tumblr. "Randy is one of my good friends and one of my favorite singer/songwriters of all time. He was looking good and doing great."

MORE FROM WONDERWALL:

Like us on Facebook?