The Facts of Life's Charlotte Rae Has Been Diagnosed with Bone Cancer at 91

People
4/28/2017
"Last Monday, I found out I have bone cancer," the actress, who played the beloved Edna Garrett on Different Strokes and The Facts of Life, exclusively reveals to PEOPLE. "About seven years ago, I was diagnosed with pancreatic cancer — which is a miracle that they found it because usually it's too late. My mother, sister and my uncle died of pancreatic cancer. After six months of chemotherapy, I was cancer-free. I lost my hair, but I had beautiful wigs. Nobody even knew."
"So now, at the age of 91, I have to make up my mind. I'm not in any pain right now. I'm feeling so terrific and so glad to be above ground," she explains. "Now I have to figure out whether I want to go have treatment again to opt for life. I love life. I've had a wonderful one already. I have this decision to make."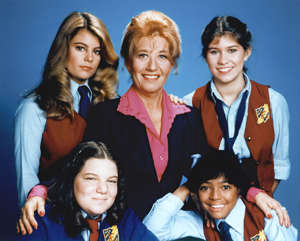 © NBC-TV/REX/Shutterstock The Facts Of Life - 1979-1988 Lisa Whelchel, Charlotte Rae, Nancy McKeon, Mindy Cohn, Kim Fields
In 2015, the star released a memoir — The Facts of My Life — which chronicles her life of stardom, digs deep into how she maintained nearly 44 years of sobriety, describes how she discovered her loving husband, John Strauss, was bisexual, and explains how she coped with the death of her eldest son, Andrew, who suffered from autism and dementia.
Despite her troubles, Rae continues to live life with an immense amount of hope and positivity.
"At 91, every day is a birthday," she says. "[In my book] I want to tell everybody to celebrate every day, to savor the day and be good to yourself, love yourself, and then you can be good to others and be of service to others."
© The Associated Press FILE - In this Sept. 15, 2014, file photo, Charlotte Rae arrives at the 2014 PALEYFEST Fall TV Previews - "The Facts Of Life" Reunion in Beverly Hills, Calif. Rae recounts in her new autobiography, her own life bore little resemblance to the sitcom-grade serenity of her "Facts of Life" character, Edna Garrett, instead marked by challenges that included son Andy's autism and her husband's late-in-life disclosure that he was bisexual and wanted an open marriage. (Photo by Richard Shotwell/Invision/AP, FILE)
The Facts of Life star, who celebrated her 91st birthday on Saturday with family and friends, was supposed to start treatment on Thursday, but decided to cancel.
"I wanted to think about it first," she says. "I think I'm gong to go for it. The side effects were not too bad when I did it originally. I've had a great life, but I have so many wonderful things happening. I'd like to chose life. I'm grateful for the life I've already had."
Related video: Charlotte opens up about her alcoholic past (via Fox News)