Buildings shake, schools evacuated as quake hits east Taiwan

Reuters
4/18/2019
Television footage showed school children being evacuated from buildings, while a weather bureau official said it was the largest quake to hit the island so far this year.
The quake hit at a depth of 18 km (11 miles), the Central Weather Bureau said.
No other details were immediately available.
The central government said it had set up a disaster reaction center.
The United States Geological Survey put the magnitude of the quake at 6.4, adding that it struck at a depth of 15 km (9 miles) from Hualien.
Taiwan, a self-ruled island that China considers its own, lies near the junction of two tectonic plates and is prone to earthquakes.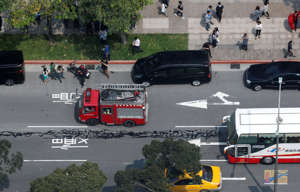 © Tyrone Siu/Reuters

Spilled asphalt is seen on a major road in the centre of Taipei, Taiwan April 18, 2019.

More than 100 people were killed in an earthquake in the island's south in 2016, and a quake of 7.6 magnitude killed more than 2,000 people in 1999.

(Writing by Anne Marie Roantree; Editing by Clarence Fernandez and Darren Schuettler)