Photos: Kilauea eruption from space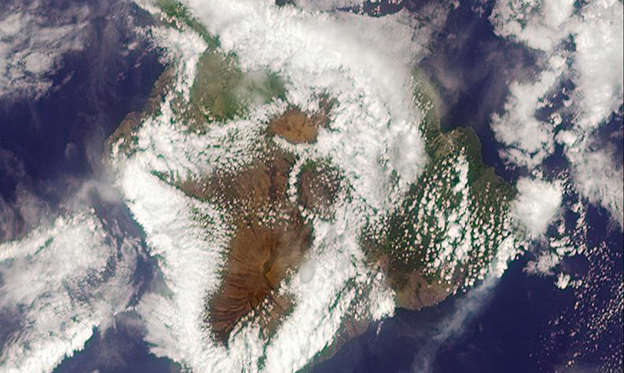 On May 3, 2018, a new eruption began at a fissure of the Kilauea volcano on the Island of Hawaii. Kilauea is the most active volcano in the world, having erupted almost continuously since 1983. Advancing lava and dangerous sulfur dioxide gas have forced thousands of residents in the neighborhood of Leilani Estates to evacuate. A number of homes have been destroyed, and no one can say how soon the eruption will abate and evacuees can return home.
On May 6, 2018, at approximately 11 a.m. local time, the Multi-angle Imaging SpectroRadiometer (MISR) instrument on NASA's Terra satellite captured this view of the island as it passed overhead. Much of the island was shrouded by clouds, including the fissure on its eastern point. However, an eruption plume is visible streaming southwest over the ocean.
© NASA/GSFC/LaRC/JPL-Caltech, MISR Team