Another nor'easter? Watching track of Monday storm closely

WCVB Boston
3/9/2018
© Provided by Hearst Television, Inc. In the wake of back-to-back nor'easters, there is a lot of talk about another potential storm for early next week. StormTeam 5 is watching the forecast charts; some show a miss, others show another hit.
A storm system will develop over the southeastern United States later this weekend. From there, the models diverge greatly in how the storm will move.
The difference is how the northern and southern branches of the jet stream interact, if they do at all.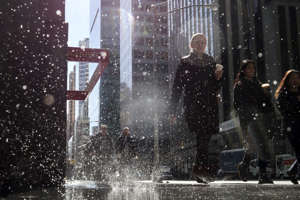 Gallery by photo services
"If the two link up in time, then we will be in business for yet another snowstorm later Monday afternoon. It's too early to say how exactly that will pan out," StormTeam 5 chief meteorologist Harvey Leonard said.
"If the (northern and southern jet streams) mind their own business, then (the storm) will be carried out to sea," Leonard went on to say.
If the storm were to track closer to New England on Monday, there would be the potential for more snow, rain and strong winds.
StormTeam 5 will closely watch this potential storm this weekend.