As blazes rage on, worst fire weather of season is ahead for California and much of western US

AccuWeather
7/10/2018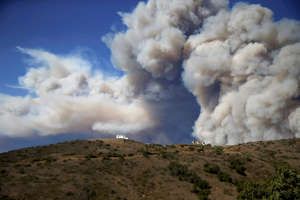 Slideshow by Photo Services
While the North American monsoon has gotten underway in the western United States, fire season will continue in California and in many other areas through the summer.
For much of the West, fire season continues to ramp up during July and reaches a peak in August.
"Most of the time during the summer, heat, strong sunshine and progressively drying fuels cause fire conditions to get worse from day to day," according to AccuWeather Meteorologist Evan Duffey.
"On your good days, fire conditions just don't get worse," Duffey, who is also a volunteer firefighter, said.
Moisture from the monsoon can make some fuels more moist and fire ignition more difficult. However, strong winds often extend miles away from a thunderstorm that might produce rain in a small area. These winds can create havoc for those fighting existing fires.
While human activity, such as campfires, burning of debris, discarded cigarettes and arson, are the leading cause of wildfires, lightning is main natural cause of ignition, according to the National Park Service.
The average lightning bolt is 54,000 F, which is several times hotter than the surface of the sun. So a storm producing little to no rain can lead to a raging fire in a matter of minutes.
The largest active fire in the U.S. is the Martin Fire, near Winnemucca, Nevada. The predominantly grassland fire has grown to 425,000 acres as of Tuesday morning, according to the National Interagency Fire Center.
"During the afternoon, stiff breezes will cause the Martin Fire to move along between 10 and 12 mph," according to AccuWeather Meteorologist and firefighter Evan Duffey. "A fire moving at that speed is faster than a person can run, so boots-on-the-ground attempts to contain a fire of that nature must be done cautiously to keep firefighters away from the fast advancing fire front."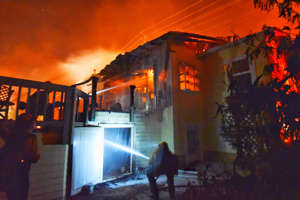 The largest active fire in California and the largest of the season so far is the County Fire. This fire is located in Napa and Yolo counties.
The County Fire has consumed more than 90,000 acres and was 75 percent contained as of Tuesday morning, according to Cal Fire. Twenty structures have burned in the fire. Steep terrain has been a challenge in fighting the blaze.
The Klamathon Fire, burning in Siskyou County, Northern California, has spread into neighboring Oregon and taken one civilian life and injured three firefighters thus far as of Tuesday morning. Evacuation orders have been given for parts of Jackson County, Oregon.
The Klamathon Fire has consumed 36,500 acres, has burned 82 structure and threatens more than 1,200 others, including homes and businesses. Evacuation orders remain in effect in the Hornbrook and Irongate Reservoir communities. This fire was 40 percent contained as of Tuesday morning.
In Southern California, the Valley Fire, in San Bernardino County, has burned 1,348 acres thus far and was only 13 percent contained. Portions of California Highway 38 are closed.
Building heat in the Northwest will increase the risk of wildfire ignition and spread in the coming days.
"In the northwestern U.S. and in some areas of the interior West in general, fire season winds down in the autumn as storms with more substantial rain and high-country snow move in from the Pacific Ocean," Duffey said.
In parts of the West, such as in Southern California, wildfire season continues beyond the summer and peaks during the autumn with Santa Ana winds playing a significant role.
These strong winds that blow out of the mountains and through the canyons and on toward the Pacific coast can be strong enough to knock down trees and power lines, which can spark fires.
Storms that begin to frequent the Northwest often fail to bring much rain to Southern California until the winter.
Episodes of Santa Ana winds can occur through the winter in Southern California.
Meanwhile, in Alaska, cooler air, showery conditions and higher humidity levels are likely to slow the spread of existing fires and reduce the chance of new blazes igniting this week.
Approximately 70 wildfires were active as of July 10, according to the Alaska Interagency Fire Center. The fire season has been a bit blow average thus far.
Peak fire months, on average, are June and July in Alaska. Temperatures trend downward significantly during August and September, which tends to inhibit wildfire ignition, depending on the weather patterns.