Blazing heat to return to Pacific Northwest after refreshing weekend

AccuWeather
8/10/2018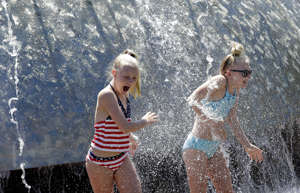 © Elaine Thompson/AP Photo Two girls react to being hit by water suddenly shooting out from the International Fountain behind them as they play in warm and sunny weather, Friday, July 13, 2018, in Seattle. Daily temperatures are expected to hit the low- to mid-80's with more sun into at least early next week in the area. (AP Photo/Elaine Thompson)
A welcome break from the extreme heat that has been scorching the Pacific Northwest is in store this weekend, but the heat relief will not last for long.
High temperatures in Seattle and Portland, Oregon, have averaged 10-15 degrees Fahrenheit above normal this week. The mercury has soared into the 90s for five consecutive days in Portland and for three consecutive days in Seattle as of Thursday, Aug. 9.
The streak of 90-degree days will likely end in both cities on Friday as a dip in the jet stream temporarily squashes the expansive heat dome through the weekend.
"The coastal areas from Seattle to Portland will experience much more comfortable conditions Friday, with high temperatures in both cities remaining confined to the 80s," AccuWeather Meteorologist Ryan Adamson said.
Adamson added that interior portions of Washington, Oregon, Idaho and Montana will have to wait another day before cooler air arrives, with widespread triple-digit heat still on tap for Friday.
"Cooling will move farther inland this weekend, with triple-digit heat being pushed into central and eastern Montana and the western Dakotas while comfortable high temperatures in the 70s grace the Interstate 5 corridor from Seattle to Portland," said Adamson.
Temperatures will settle to within a few degrees of normal in the Pacific Northwest this weekend, with triple-digit heat across the interior being replaced by more refreshing air.
A weak storm system moving through the area on Saturday will bring clouds and spotty showers to the coast of Washington and northern Oregon, but these showers will do little to help ongoing firefighting efforts in the Northwest.
Nearly 20 active fires that have charred over 210,000 acres are burning in Washington and Oregon alone as of Thursday. Currently, there are nearly 90 active blazes present across the western United States.
"While there will be a significant cooldown for the region this weekend, there will also be an increase in winds," AccuWeather Meteorologist Evan Duffey warned.
This could create a volatile period of rapidly spreading wildfires this weekend.
Duffey stressed that the uncertainty in wind direction will add unpredictability in the direction that wildfires may spread.
"This creates a dangerous situation for wildland firefighters in the region," he added.
Anyone living or traveling through the western half of North America should remain up to date on local watches, warnings and alerts and be prepared to evacuate at a moment's notice.
Hikers and tourists spending time outdoors should have a plan of action in place in the event that mandatory evacuation orders are issued.
Download the free AccuWeather app to check on the latest coverage of beneficial showers or direction of troublesome winds.
Although winds should lessen again by early next week, the massive heat dome confined to the Southwest this weekend will once again bulge back northward and bring more heat back to the Northwest.
"While temperatures in Montana and the western Dakotas will fall into the 80s and lower 90s F early next week, Washington and Oregon will begin to heat back up," Adamson warned.
While high temperatures should not be quite as high as what they were this week, areas from Portland to interior parts of Washington and Oregon could once again experience 90-degree heat, with mid- to upper 80s returning to Seattle.
Anybody with respiratory problems, the elderly, young children and those that mind the heat should be sure to drink plenty of fluids and limit time outdoors during the hottest parts of the day to reduce the risk for heat-related illness.
Unfortunately, no meaningful change in the weather pattern is in sight for at least the next couple of weeks. The hottest and driest weather, relative to normal, is expected to remain across the western U.S.
Thus, firefighters already dealing with an above-average fire season should expect little, if any, aid from Mother Nature in the weeks to come as the acreage burned continues to increase.