California's Camp Fire killed 85 people, but the death toll is still changing as DNA from remains gets identified

Business Insider
12/5/2018
The death toll from two recent California wildfires dropped to 88 people on Monday, after the Butte County sheriff announced that remains thought to be separate cases were "proven by DNA" to be the same person.
The Camp Fire in Northern California destroyed an entire town in less than a day and killed at least 85 people, making it by far the deadliest fire in the state's history.
Both the Camp Fire and the Woolsey Fire on the outskirts of Los Angeles are now 100% contained.
California wildfires are becoming so frequent and pervasive that local officials say there's almost no need for the term "wildfire season" anymore.
The death toll from California's deadliest wildfire on record dropped back to 85 people on Monday, after authorities discovered that separate bags of remains recovered from the Camp Fire were "proven by DNA" to be the same case. 

That shred of good news came as workers continue to clear debris and sift for remains in the area of Northern California hit by the Camp Fire. Eleven people are still missing, according to the Butte County Sheriff's Office, so it's possible the number of victims could still rise.
Authorities announced on November 25 that the fire, which had raged for over two weeks in the foothills of the Sierra Nevada, was 100% contained. The blaze scorched 153,336 acres - an area larger than the city of Chicago.
Widespread rains over the last couple of weeks brought relief to firefighters, but the wet, muddy conditions complicate efforts to locate human remains. Only 43 of the 85 remains have been positively identified to date.
The other deadly wildfire in California, the Woolsey Fire on the outskirts of LA, is also 100% contained, according to the Los Angeles Fire Department. The Woolsey flames burned 96,949 acres and killed three people, bringing the combined death toll from both the Woolsey and Camp fires to 88.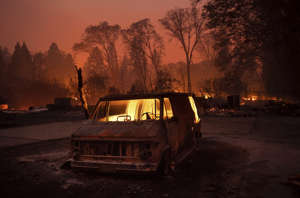 Slideshow by photo services