Cold air to dominate midwestern, northeastern US this week

AccuWeather
12/2/2018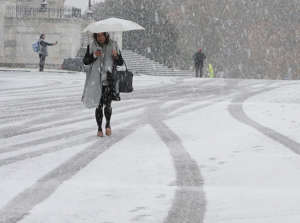 December is picking up right where November left off with cold air set to dominate the midwestern and northeastern United States this week, paving the way for more snow.
People from Minneapolis to Chicago, Detroit, Cleveland, Pittsburgh, Washington, D.C., and New York City got an early taste of winter with temperatures averaging 3-6 degrees Fahrenheit below normal during November.
With the exception of Minneapolis, above-normal snowfall was also recorded in each of these cities last month.
The milder end to the weekend in much of the Northeast should not give residents false hope that winter is taking a break.
In the wake of the weekend storm, cooler air is forecast to sweep across the Northeast, according to AccuWeather Senior Meteorologist Alex Sosnowski.
"On Monday, the cool air will bring temperatures back to within a few degrees of average from the Appalachians to the Great Lakes," Sosnowski said.
Rain and snow showers will mark the leading edge of the cooler conditions across the eastern Great Lakes and northern New England at the start of the week.
Temperatures will plummet even further on Tuesday, with high temperatures in the 20s F across upstate New York and New England and 30s over the rest of the interior.
People along the Interstate-95 corridor from Washington, D.C., to Boston can keep the winter coats in the closet until Tuesday, when cooler air will reach the coast.

Tuesday's highs may be up to 20 degrees lower than Sunday's peak temperatures across the Northeast.
Download the free AccuWeather app to see when and how much temperatures will plummet in your area.
A reinforcing shot of cold air will sweep through the Midwest and Northeast during the latter half of the week.
"Some snow showers are expected from the Great Lakes into the Northeast with this cold front from Thursday to Friday," AccuWeather Lead Long-Range Meteorologist Paul Pastelok said.
Snow could come close to St. Louis and may coat Chicago, Indianapolis and Detroit on Thursday, before reaching Pittsburgh and Syracuse, New York, by Friday.
Locally heavier snow squalls are possible along this corridor.
Frigid air will settle in behind the front, with highs likely being held in the teens in Minneapolis and 20s in Chicago to end the week.
While the air will not be quite as cold when it reaches the Northeast, highs several degrees below normal will remain common at late week.
AccuWeather meteorologists are monitoring a storm that may tap into this cold air, spreading a swath of snow and a wintry mix from the central and southern Plains to part of the Eastern Seaboard late this week and into next weekend.
With this storm, severe weather may occur near the Gulf Coast.