Heat to fade across the Midwest, Great Lakes early this week

AccuWeather
6/17/2018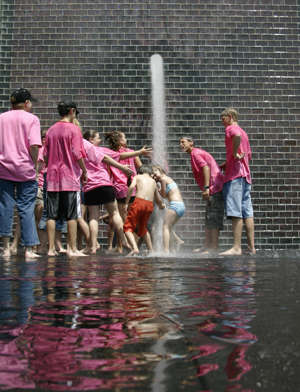 © JEFF HAYNES/AFP/Getty Images Children get soaked from the large outpour of water from the Crown Fountain during during a hot spell of 90 degree weather 07 June 2005 at the Millennium Park in Chicago, IL.
Cooler air will rush from Canada southward into parts of the Midwest early this week, bringing an end to the recent intense heat.
The current round of sweltering heat resulted in a new record high temperature in Minneapolis on Friday as the temperature peaked at 95 F.
This heat will fuel one more round of downpours from South Dakota into Minnesota and Wisconsin into Sunday night as flooding continues in some communities.
Flooding downpours will again be the biggest concern; however, some of the strongest storms may be capable of producing damaging winds and hail.

An area of high pressure building north of the region will force the cooler, drier air southward, ending the threat for thunderstorms following several days of downpours.
A break from the rain will benefit locations that have endured flooding problems in recent days.
This surge of drier air will also bring an end to the high humidity that accompanied the heat, making it feel even more refreshing.
The cooler air will reach Sioux Falls, South Dakota; Minneapolis and Eau Claire, Wisconsin, on Monday.
High temperatures will be in the low to mid-70s F, following several days with a high temperature near or above 90 F.
Farther south, the heat will linger for another day as high temperatures soar past 90 degrees Fahrenheit from Omaha, Nebraska, to Chicago and Detroit on Monday.
Along with the heat there will be the risk for rain and thunderstorms.
Some of these storms could be severe, bringing the risk for damaging winds, hail and flash flooding.
Travel disruption will be possible, ranging from ponding on roadways to flight delays or cancellations.
The southward push of cooler, less humid air will continue on Tuesday bringing relief to areas from southern and eastern Nebraska to southern Michigan and northern Ohio.
A shower or thunderstorm cannot be ruled out in these areas on Tuesday; however, the threat for severe weather will come to an end.
Farther north, cooler air will remain in place from the Dakotas to northern Michigan, where high temperatures will be in the 70s F.
A corridor of daily showers and thunderstorms will continue from the central Plains to the southern Ohio Valley at midweek, while areas farther north and east can expect drier and continued cool weather to prevail.