Heavy rain to bring flood risk, travel disruptions to eastern Texas this week

AccuWeather
6/18/2018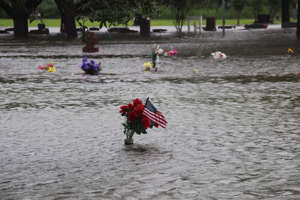 © H. ELLESSY/AFP/Getty Images The South Park Cemetery in Pearland, Texas, is flooded by rains from Hurricane Harvey on August 29, 2017.
Multiple days of frequent, heavy downpours are in store for eastern Texas this week, heightening the risk of flooding and travel disruptions across the region.
Residents of Houston got a taste of the incoming weather pattern when a record-breaking 1.26 inches of rain fell on Sunday - nearly five times as much as it had so far in June. This set a new daily rainfall record and also took second place for wettest June day in recorded Houston history.
Much of eastern Texas is experiencing at least abnormally dry conditions, with a small portion near Corpus Christi under extreme drought conditions. Luckily, drought-relieving rainfall is expected to spread.
"Incredibly moist air will be pushed onshore and result in a prolonged period of showers and thunderstorms from the coast as far inland as Waco, San Antonio, and even suburbs of Dallas," said AccuWeather Meteorologist Brett Edwards.
According to Edwards, rainfall totals of 8-16 inches can be expected along the coast, while those at locations farther inland could receive as many as 4-8 inches of rain by Thursday.

While this rainfall will be spread over the course of multiple days, any one storm could drop several inches of rain on an area in just a couple of hours. This threat will be especially prevalent in areas from Beaumont, Texas, through Houston and Corpus Christi.
"Some localized flooding is also possible in parts of Austin, San Antonio and parts of southwestern Louisiana, where 2-4 inches of rainfall are also expected," Edwards said.
While this potentially flooding rainfall is tropical in nature, development of a tropical depression or storm is not expected.
This wet weather pattern has the potential to eliminate drought conditions, but it will also heighten the risk of flooding of homes, businesses and roads, as well as slowed traffic and airline delays as relentlessly rainy weather persists through midweek.
Motorists are reminded never to drive through flooded roadways, as the water may be deeper than it appears and the road surface may be compromised beneath the water. As a result of decreased visibility and standing water, rush-hour traffic could be exacerbated through Wednesday, and extra time should be allowed for the daily commute.
By the end of the week, drier air is expected to filter into the region, shutting off the tropical downpours and allowing calm, dry weather to become established in time for the weekend.