High heat to bake Pacific Northwest beginning late this week

AccuWeather
7/10/2018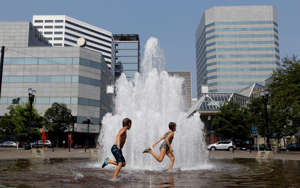 © Don Ryan/AP Photo Langstrom Kalstrom, left, and Violet Dashney run through the Salmon Street Springs fountain in Portland, Ore., Thursday, Aug. 3, 2017. The National Weather Service issued an excessive heat warning for western Washington and Oregon Thursday. (AP Photo/Don Ryan)
Following weeks of dry, seasonable weather, residents of the Pacific Northwest should prepare now for the next stifling heat wave.
Temperatures will climb steeply through midweek, with the high temperature in Portland, Oregon, forecast to jump from near 80 F on Tuesday to 90 F on Wednesday. The heat will peak in the mid-90s there on Thursday, similar to temperatures reached during the last heat wave in mid-June.
In Medford, temperatures are expected to exceed the century mark for the second time this year. Temperatures will approach 100 on Thursday and Friday in Redmond as well.
"Coastal cities will remain cool throughout the week, but inland cities will soar 10-15 degrees above average," said AccuWeather Meteorologist Brett Edwards.
Away from the immediate coast, people without air conditioning in their residence should consider alternate means of staying cool, such as keeping blinds closed and fans running or frequenting public buildings that have air conditioning.
This will be especially important around midday and during the early afternoon, when the sun is strongest.
"Temperatures will soar into the 90s and lower 100s in parts of eastern Oregon and Washington," Edwards said.
Anyone planning to spend time outdoors should be sure to remain well hydrated, wear plenty of sunscreen and spend as much time in the shade as possible. Any animals kept outside should be provided with a shady area and plenty of water as well.
In addition to the threat of heat-related illness in both people and animals, the combination of extreme heat and dry conditions will elevate the fire threat across much of the Pacific Northwest late this week, according to Edwards.
With large portions of the interior Northwest facing moderate to severe drought conditions, there is plenty of dry brush that can ignite and allow fires to spread quickly.
While record-breaking heat is not expected this week or next, temperatures are anticipated to remain well above average through at least early next week.