Hurricane Max heads toward Mexico's touristy Pacific coast

Reuters
9/14/2017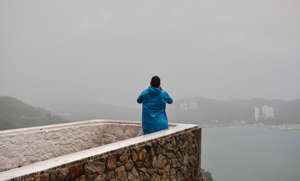 A man takes photos of the rain and strong winds effects from a lookout point along the scenic road before the arrival of hurricane Max in Puerto Marquez, Guerrero state, Mexico on September 14, 2017. Hurricane Max formed off the southwestern coast of Mexico on Thursday, triggering warnings of life-threatening storm conditions for a long stretch of coastal communities including the resort city of Acapulco, forecasters said. Hurricane Max, a Category 1 hurricane, churned toward Mexico's Pacific coast on Thursday, the U.S. National Hurricane Center said, bearing down on a region popular with tourists that includes resorts like Acapulco, Zihuatanejo and Ixtapa.
The storm brought maximum sustained winds of 80 miles per hour (129 kph) on Thursday morning and was about 40 miles (64 km) south of Acapulco, the center said, adding it was moving east at 7 miles per hour (11 kph).
"The center of Max is forecast to cross the coast of southern Mexico in the hurricane warning area this evening or tonight," the NHC said.
Max will likely strengthen before reaching the coast but is seen weakening once it hits land, where it will dissipate, the NHC said. Category 1 is the lowest level on the five-tier Saffir-Simpson scale that measures hurricane wind speeds.
In the state of Guerrero, home to some of Mexico's major tourist resorts, Max could dump as much as 10 inches (25 cm) of rain, the NHC said.
The storm is bad news for Acapulco as the city prepares to host tourists who travel to the city to celebrate Mexico's Independence Day celebrations which are this weekend.
Meanwhile, tropical storm Norma formed in the Pacific on Thursday, according to the NHC. The storm, which is currently 395 miles (636 km) south of Cabo San Lucas, on the southern tip of Mexico's touristy Baja California peninsula, could become a hurricane by late Friday.
Max arrives a week after a powerful 8.1 magnitude quake shook southern Mexico, destroying buildings in the state of Oaxaca and killing at least 98 people nationwide.
(Reporting by Gabriel Stargardter; Editing by Phil Berlowitz and Andrew Hay)