Hurricane Michael vs. Hurricane Opal: Comparing the two storms

WMAZ-TV Macon
10/10/2018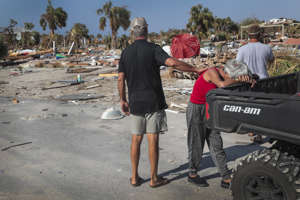 Gallery by photo services
As Hurricane Michael marches toward the Gulf Coast, and eventually, Georgia, several storm veterans in the comment section on Facebook brought up Hurricane Opal -- a 1995 hurricane that took a similar path.
RELATED: Tracking Michael | Outer bands from Michael arrive as early as this afternoon
RELATED: Georgia governor declares state of emergency for 92 counties ahead of Hurricane Michael
Back then, the Category 4 storm smashed into the Florida panhandle with 150 mph winds before stalling out, leaving north and west Georgia dealing with devastating rains and flooding.
In the storm's wake: nine dead and 20 inches of rain in some places.
Flash forward to 2018 – with the track of Michael not too far off. The storm is fast-moving storm and i's also projected to take a path that keeps most of north Georgia on the "quiet" side of the storm.
11Alive Chief Meteorologist Chris Holcomb was working at here when Opal hit. He remembers the chaos it created in the newsroom.
"We had our power knocked out, and had to do our morning newscast on that day in our parking garage at 11Alive," Holcomb recalled.
Now, he's in the Florida panhandle with an eye on Michael.
Michael and Opal – two similar storms with, hopefully, two very different outcomes.
► Download the FREE 13WMAZ News app now in the iTunes store or on Google Play.