Hurricane warning issued from Louisiana to Florida border as Nate approaches

USA TODAY
10/6/2017
Video by AccuWeather
As Tropical Storm Nate roared toward the Gulf of Mexico on Friday, the National Hurricane Center issued a hurricane warning for a stretch of the U.S. Gulf Coast from Louisiana to the Alabama-Florida border.
Nate, which originated in the Caribbean Sea, has drenched Central America with heavy rain that was blamed for at least 21 deaths in Nicaragua, Honduras and Costa Rica.
As of 2 p.m. ET, Tropical Storm Nate was about 125 miles east-southeast of Cozumel, Mexico, moving north-northwest at 21 mph with maximum sustained winds of 50 mph.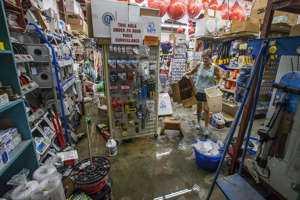 The hurricane center said Nate was expected to move into the southern Gulf of Mexico Friday night and move near or over the northern Gulf coast Saturday night or Sunday as a Category 1 hurricane.
The hurricane warning was issued for the U.S. coast from Grand Isle, La., to the Alabama-Florida border.
A "life-threatening" storm surge warning was issued for an area from Morgan City, La., to the Alabama-Florida border and for the northern and western shores of Lake Pontchartrain. 
Louisiana officials declared a state of emergency and ordered some people to evacuate coastal areas and barrier islands ahead of its expected landfall early Sunday morning, and evacuations began at some offshore oil platforms in the Gulf.
Along the central Gulf Coast, 3 to 6 inches of rain is expected in many areas, with up to 12 inches in some spots, the National Hurricane Center said.
Mississippi Gov. Phil Bryant declared a state of emergency in Mississippi's six southernmost counties in advance of the storm's arrival.
Heavy rainfall from Nate will continue to be a threat in portions of Central America, with life-threatening flash flooding and mudslides possible in portions of Nicaragua, Honduras, Costa Rica, Panama and Belize through Friday night.
The storm is forecast to strengthen over the northwestern Caribbean Sea on Friday before a possible strike on the Cancun region at the tip of Mexico's Yucatan Peninsula at near-hurricane strength.
In Louisiana, Gov. John Bel Edwards mobilized 1,300 National Guard troops, with 15 headed to New Orleans to monitor the fragile pumping system there. Edwards urged residents to ready for rainfall, storm surge and severe winds — and to be where they intend to hunker down by nightfall Saturday.
Edwards said Nate is forecast to move quickly, rather than stall and drop tremendous amounts of rain on the state. State officials hope that means New Orleans won't run into problems with its pumps being able to handle the water.
Officials ordered the evacuation of part of coastal St. Bernard Parish east of New Orleans ahead of the storm. Earlier Thursday, a voluntary evacuation was called in the barrier island town of Grand Isle south of New Orleans.
In Nicaragua, Nate's arrival followed two weeks of near-constant rain that had left the ground saturated and rivers swollen. Authorities placed the whole country on alert and warned of flooding and landslides.
At least 15 people died in Nicaragua due to the storm, while seven people were killed in Costa Rica and 15 were others missing. Flooding also drove 5,000 Costa Ricans into emergency shelters.