Locally severe storms to threaten tree, property damage in Ohio Valley through Monday evening

AccuWeather
5/21/2018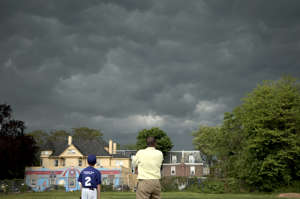 © Bastiaan Slabbers/NurPhoto/Getty Images Severe weather builds up over Northwest Philadelphia, PA, on Primary Election Day, May 15, 2018. The same system that brought localized damaging winds and hail to Missouri, southern Illinois and western Ohio on Sunday will trigger another round of thunderstorms on Monday.

Although violent storms on Sunday were widely separated, high winds proved to be enough to down a few trees near Jacksonburg, Ohio, and Mitchellsville, Illinois, as storms moved through these areas.
These same hazards will again be possible on a local scale into Monday evening in communities that get rattled by the strongest storms.
"While a severe weather outbreak is not expected, the strongest storms can produce winds strong enough to down trees and power lines, and blow shingles off of roofs," AccuWeather Meteorologist Brett Rathbun warned.
Rathbun added that, while some residents may experience power outages and property damage, others may see no more than a shower since the activity is expected to be scattered in nature.
Storms are forecast to gain intensity around or shortly after the noontime hour from southern Illinois to northern Kentucky and central Indiana.
In general, the storms will then track toward the northeast during the late afternoon and evening hours.
"The afternoon commute in and around Louisville, Indianapolis and Cleveland could face delays from blinding downpours," Rathbun added.
Although the strongest storms will stay to the south of Detroit, a soaking rain Monday afternoon may lead to slick roadways for those heading home from work.
While the heaviest rain in Chicago should fall during the morning hours, it may hold off until around sunset in Cleveland, Ohio.
Other cities that lie in Monday's threat zone include Paducah, Kentucky; and Cincinnati and Columbus, Ohio.
Large portions of interstates 65, 70 and 75 can be impacted by the storms, making traveling at highway speeds difficult to potentially dangerous. Since the risk for hydroplaning increases on wet highways, motorists should reduce speeds in torrential downpours.
Fishermen, hikers, bikers, golfers and anybody with outdoor plans should keep a close eye on the sky and move indoors away from windows as soon as thunder is heard. It is at this time that lightning is close enough to strike.
Storms will gradually weaken as they move into northeastern Ohio, northwestern Pennsylvania and western New York later Monday night.
However, another round of locally heavy gusty storms are expected to target eastern portions of the Ohio Valley and interior mid-Atlantic on Tuesday.