Major storm may precede rush of polar air into northeastern US prior to Thanksgiving

AccuWeather
11/12/2017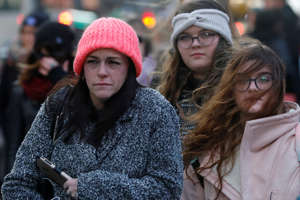 © Shannon Stapleton/Reuters People walk during cold temperatures in New York on Nov. 10, 2017.
A disruptive storm packing rain, wind and snow may evolve in the eastern half of the United States as Thanksgiving travel begins to ramp up late this week and into next weekend.
Motorists along major thoroughfares in the East could face slow travel and difficult driving conditions. Airline passengers may have to adjust flight times due to delays and cancellations.
Ripple-effect delays may lead to travel headaches elsewhere across the country.
The storm will be spawned as polar air drops southward across the Midwest and East late this week and into the coming weekend.
"We will have to wait and see the exact storm track, but at least some travel delays can be expected across the Northeast from heavy rain, snow and some rather strong winds," AccuWeather Long-Range Meteorologist Evan Duffey said.
Mild air will build ahead of the storm as lingering chill retreats. This could lead to a brief period of a wintry mix across the northern tier.
Farther south, a line of heavy rain and gusty, locally damaging thunderstorms can occur.
"Any storms from the lower Ohio Valley to the Gulf Coast could produce damaging wind gusts and hail," AccuWeather Lead Long-Range Meteorologist Paul Pastelok said.
If the cold air rushes in fast enough and hooks up with the back edge of the storm, some areas that start as rain could end with wet snow.
"Anywhere from northeastern Pennsylvania to central and northern New England back toward upstate New York could have a changeover to wet snow," Pastelok said.
The central Appalachians and Great Lakes region could also be at risk of wintry precipitation. Should a secondary storm spin off near the coast, which can occur in situations like this, part of the Atlantic coast could be at risk as well.
Regardless, strong winds will whip around the storm and may lead to further disruptions, such as tree damage and sporadic power outages.
Areas downwind of the Great Lakes could face a prolonged period of heavy lake-effect snow that persists into the early part of the week of Thanksgiving.
While the air behind the storm might not be as cold as this past Friday and Saturday, the wind and chilly air will still be uncomfortable for many, according to Duffey.
"The colder conditions will even occur in the South," Pastelok said.
Will the stormy pattern linger into Thanksgiving?
The cold and volatile weather pattern that is shaping up may be in no hurry to leave leading up to the holiday.
"There [could] be another cold shot and snow chance right around Thanksgiving [in the Northeast], which while short-lived could cause another round of travel disruptions," Duffey said.
People with Thanksgiving travel plans should continue to monitor the forecast over the next week.
"Regardless of the storm potential, people planning on traveling by car [for Thanksgiving] in the Northeast and Midwest should make sure their vehicle is prepared for winter travel conditions," AccuWeather Senior Meteorologist Alex Sosnowski said. "A set of tires with decent tread, new wiper blades and adequate fluids are a good start in advance of the trip."