Mammoth Mountain delays opening, blaming warm temperatures

Los Angeles Times
11/8/2018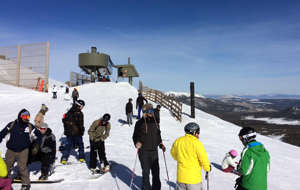 © Christopher Weber/AP Photo Skiers hit the slopes at Mammoth Mountain resort in California's Sierra Nevada Friday, Jan. 26, 2018. Some of California's mountains are sporting a fresh coat of snow - Mammoth has received about a foot in the last day or so - but winter is about to take a hiatus in the southern half of the state as building high pressure spawns dry, gusty Santa Ana winds and sends temperatures into the 80s. (AP Photo/Christopher Weber) The opening of Mammoth Mountain, which had been scheduled for Thursday, has been delayed.
The Sierra ski resort's website blamed warm temperatures for the hold-up, saying they "had slowed our progress."
"We are delaying Thursday's opening day until we're confident we have enough snow to get open and stay open. ... Colder temps are in the forecast, and we'll get this party started soon."
Temperatures Wednesday at Mammoth Lakes were in the 60s, according to AccuWeather.com. The site was forecasting highs for Thursday, Friday Saturday and Sunday, respectively, of 45, 54, 59, 51.
Temps for the same period last year were in the 50s and 60s.
Total snowfall for the 2017-18 season was 274 inches, according to OntheSnow.com; 2016 was a big snow year, with 536 inches.
Meanwhile, over in Nevada, Mt. Rose Ski Tahoe opened for passholders Oct. 19 and is expected to be open to Friday-Sunday. Its website was reporting a base depth of 8 to 12 inches.