Memorial Day weekend outlook: Plans may be spoiled by tropical downpours in East, showers in Northwest

AccuWeather
5/20/2018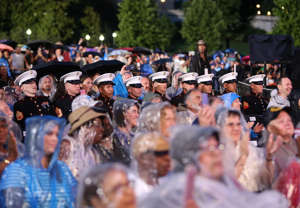 © Paul Morigi/Getty Images for Capitol Concerts Soldiers attend the 27th National Memorial Day Concert on May 29, 2016 in Washington, DC.
Outdoor festivities during Memorial Day holiday weekend may be in jeopardy across the eastern and northwestern United States, while the Midwest welcomes a drying trend.
Memorial Day marks the unofficial start to summer, and AAA reports that Americans will be traveling in near-record numbers.
"More than 41.5 million Americans will travel this Memorial Day weekend, nearly 5 percent more than last year and the most in more than a dozen years," AAA stated.
The top 10 destinations for travelers this Memorial Day are Orlando, Florida; Seattle; Honolulu; Las Vegas; Anchorage, Alaska; Phoenix; Anaheim, California; Boston; Denver and New York City, according to AAA.
Unfortunately, bright sunshine is not in the forecast for all of these getaways.
Tropical downpours, concerns to mar holiday plans in East
Tropical moisture is expected to result in rounds of showers and thunderstorms across a large swath of the East during the holiday weekend.
AccuWeather meteorologists are closely monitoring the potential for a more organized tropical system to form over the waters near Florida or the central Gulf of Mexico.
"In any case, it looks very wet for the Southeast for the holiday weekend," AccuWeather Lead Long-Range Meteorologist Paul Pastelok said.
Worse than beach plans, parades and picnics being ruined, Pastelok is concerned for the downpours to trigger flooding.
Farther north, the holiday weekend may start on a dry note from Washington, D.C., to Philadelphia, New York City and Boston.
"However, increased humidity and tropical moisture working up the coast, combined with an approaching cold front, can dampen later Saturday into Monday," according to Pastelok. "At some point, there will be several hours of steady to heavy rainfall for parts of the mid-Atlantic and southern New England."
That is the last thing residents of the water-logged mid-Atlantic want to hear.
Drying trend to grace Midwest
The better time for Memorial Day celebrations in the Midwest will be the second half of the holiday weekend.
The cold front is expected to first deliver showers and thunderstorms to Chicago, Detroit and St. Louis early in the weekend.
Pastelok anticipates lower humidity to then follow that front, providing some of the nicest weather across the nation by Memorial Day.
Temperatures may be near to slightly below average in the Great Lakes.
Unsettled weather to plague Northwest
The warmth building in Portland, Oregon, and Seattle by midweek is not expected to last through Memorial Day.
Temperatures may be brought back down to normal for the holiday as a storm pushes into the Northwest.
"Chances are higher over the holiday weekend for showers and a few thunderstorms from the Northwest, spreading across the northern Rockies and into the High Plains," Pastelok said.
Thunderstorms may also erupt down to the Colorado Rockies, threatening to spoil camping trips.
Summer heat to bake Desert Southwest
The holiday weekend will definitely feel like summer from Las Vegas to Phoenix to El Paso, Texas.
"The deserts and low elevations [of the Desert Southwest] will become extremely hot again for this time of year with widespread dryness," Pastelok said.
Residents will once again have to use care with grills and campfires as occasional breezes may heighten the fire danger.
Cooler air flowing in from the Pacific Ocean will prevent those enjoying the holiday in Anaheim, Los Angeles, San Francisco or any other communities along the California coast from enduring the heat.
Monitoring Kīlauea Volcano for impacts to holiday plans in Hawaii
Northeasterly winds are expected to keep southern and western parts of Hawaii's Big Island at risk for volcanic smog, called vog, through Memorial Day.
Only if winds become more southerly later in the holiday weekend, a possibility AccuWeather meteorologists are monitoring, would the danger spread to the other islands.
Whether ash impacts air travel will be determined by the duration and height of any eruption and the winds at that time.
No major issues for travelers headed to Anchorage, Alaska
Showers and low-hanging clouds may occasionally lead to minor flight delays in Anchorage during the holiday weekend, but the city is expected to escape heavy rain and strong winds.
A storm churning over the Gulf of Alaska may create choppy seas for cruise ships.