Multiple fatalities reported as Camp fire destroys thousands of structures in Northern California

Los Angeles Times
11/9/2018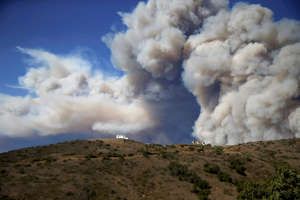 Gallery by photo services
More than 2,000 firefighters on Friday were racing to stop the explosive growth of the Camp fire in Northern California, which spread to 70,000 acres overnight and has destroyed about 2,000 homes and buildings across parts of Butte County.
The extent of the harm inflicted was still barely understood Friday.
"We know that there have been injuries and we know there has been loss of life," said Director of the California Office of Emergency Services Mark Ghilarducci. But it was too early, he said, to release a full count of the fire's victims. At least three firefighters have been injured.
So far, firefighters have been able to prevent the blaze from reaching the city of Chico, which is home to about 90,000 people and is just west of the town of Paradise, where the fire continued to burn Friday. Officials said the blaze's western perimeter is about 11 miles away from Canyon Oak, a golf course community that flanks Chico.
Conditions in Paradise remain too unstable to do a door-to-door search, according to Butte County Sheriff Kory L. Honea. But law-enforcement are recovering bodies "with as much dignity as we can afford them," he said.
© Josh Edelson / AFP/ Getty Images In an interview, Paradise Mayor Jody Jones said that her town has been devastated by the fire.
Much of Paradise's business district was gone, she said. One local hospital had burned. The McDonald's and the Ace Hardware store were engulfed in flames.
"I think we lost a high school and at least one of the elementary schools," Jones said.
Fed by high winds and a parched landscape, the wildfire began on Thursday morning, according to the California Department of Forestry and Fire Protection, and was only 5% contained a day later. Officials estimated that 15,000 homes and other buildings are in the path of by the fast-moving blaze, which sent residents running for their lives.
On Friday, firefighters were still finding pockets of holdouts, people who had stayed behind while thousands around them fled. A dozen homes were still occupied in Magalia, near the fire's starting point, and their occupants needed to be ushered out, first responders told emergency dispatchers.
Around them, one firefighter said, "is heavy structure damage."
The area is no stranger to wildfires. Ten years ago, a blaze struck Paradise, a town of 27,000 known as a popular retirement community. That fire chewed through dozens of structures and forced chaotic evacuations; the resulting panic was so alarming, angry residents showed up for months at community meetings demanding change.
"There had been no planning," said Peggy Musgrave, 85, who escaped the wrath of that fire only to find herself in gridlock again Thursday, joined by thousands of Paradise residents fleeing another raging fire.
But this time, Musgrave said, she felt there was a measure of control. People had been mailed instructions on what to do: what to pack, what routes to take out of town and a reminder to plan for their pets. When she learned through word of mouth of the encroaching Camp fire, she went to her closet for her box of prized photographs and records, and to another for her jewelry, and then she left.
"We immediately went into action," she said.
Traffic jammed. It took two hours for Musgrave to traverse approximately 16 miles. But at almost every intersection, she said, there was an informed official directing traffic and reassuring those in the evacuation gridlock they would be safe. "It gave you a feeling that if something did go wrong, we had somebody to be miserable with," Musgrave said.
Residents such as Howard Cole, who sought shelter from the Camp fire at a converted church in Oroville, know they are in fire country and say the evacuations are not unexpected.
"This is our fourth evacuation in 10 years," Cole said. "The first couple were chaos. It's getting better."
Still, other Paradise residents were critical — not of the traffic jams that ensued, but of what they said was a lack of warning to get out in the first place.
Jane Palmer, 77, said she received four automated calls the night before the fire. They were from Pacific Gas & Electric, telling her the utility was about to cut her power, which it did about 9:30 p.m.
She said she realized Paradise was on fire and her mobile home park was threatened when she saw the smoke and flames. As she drove out, she encountered a neighbor, Patsy Jacobs, 62, trying to walk out. Palmer hauled her into the car and Jacobs, because Palmer cannot see well, navigated her rescuer through the bank of smoke and burning trees.
"What pisses me off is I don't think they told everybody soon enough," said Kim Benn, 49, a neighbor who realized she needed to flee the fire when another resident pounded on her door.
Butte County Sheriff Korey Honea said the county sent out automated warning calls to 23,862 households, using its Code Red system. However, it did not deploy a universal alert through the national emergency warning system that would have reached every cellphone within reach of activated cellphone towers.
Benn said houses on her street were already on fire when she realized she needed to leave. The fire was advancing so quickly that she immediately abandoned her car to jump into a neighbor's truck.
"Don't they realize this is a senior park?" Palmer said. "There's only one way out. And had it not been for a fellow who had a meeting about evacuation in August, one of the residents, I wouldn't have known what to do."
Twitter: @paigestjohn
UPDATES:
10:50 a.m.: This article was updated with fatalities reported in the fire.
9:05 a.m.: This article was updated with new acreage numbers.
This article was originally published at 8:10 a.m.