Rain, heavy storms to drench northeastern US into Monday night

AccuWeather
8/7/2017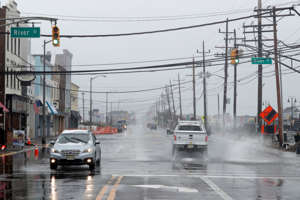 A storm will spread rounds of drenching rain, thunderstorms and travel disruptions across a heavily populated part of the northeastern United States into Monday night.

The storm that triggered flooding across the Kansas City metro area on Saturday night will be responsible for the wet weather.
"The storm is not likely to bring earth-shattering rain and thunderstorms to the mid-Atlantic," according to AccuWeather Senior Meteorologist Alex Sosnowski.
"However, enough rain can fall to cause travel delays and a few incidents of urban flooding in this busy corridor," Sosnowski said.
Excess water on roads that drain poorly will create a slow commute for motorists. This includes stretches of interstates 64, 66, 70, 76, 78, 81 and 95. Standing water increases the risk of vehicles hydroplaning when traveling at highways speeds.
Meanwhile, a low cloud ceiling and fog can lead to airline delays at the major hubs from Boston to New York City, Philadelphia and Washington, D.C.
The heaviest rain and greatest impact to travelers in Boston and Providence, Rhode Island, are expected to hold off until Monday evening.
"In addition to the travel disruptions, some smaller creeks and streams in the mid-Atlantic region may go over their banks, especially those which experienced flooding from storms this past week," according to AccuWeather Meteorologist Bill Deger.
Sporting events, field work and other outdoor activities may have to be put on hold.
The rain, accompanied by thunderstorms, may delay the start of the Major League Baseball series between the Washington Nationals and Miami Marlins at Nationals Park on Monday evening.
Heavy thunderstorms will erupt south and east of Washington, D.C.
"A small number of the storms in North Carolina, southeastern Virginia, the Delmarva Peninsula and southern New Jersey may bring wind gusts strong enough to break tree limbs and cause sporadic power outages," Sosnowski said.
An isolated tornado or waterspout cannot be ruled out.
The heaviest rain and storms should clear most of the Northeast by Tuesday, followed by another spell of dry and comfortable air that will hold through midweek.
Humidity will once again be suppressed out of the mid-Atlantic.
Similar to the start of the week, the turn to drier weather will not last long for much of the region. Showers and thunderstorms may increase in coverage once again across the Northeast late in the week.