Record heat to fuel locally severe storms across central US into Memorial Day

AccuWeather
5/26/2018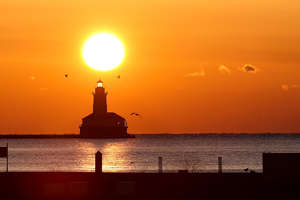 © Bilgin S. Sasmaz/Anadolu Agency/Getty Images
While Memorial Day marks the unofficial start of summer, it will feel like the season has already begun across the central United States as record heat builds into Monday.
"Temperatures across the north-central Plains to the Midwest will run 16-20 degrees Fahrenheit above normal [into Memorial Day]," AccuWeather Lead Long-Range Meteorologist Paul Pastelok said.
New record highs may be set in the cities of Duluth and Minneapolis, Minnesota; Green Bay, Wisconsin; Chicago; Des Moines, Iowa; St. Louis; and Kansas City, Missouri, on one or more days into Monday.
On Memorial Day, Minneapolis will likely flirt with the century mark, while Des Moines is poised to break its daily record of 92 that has stood for 123 years.
Even areas farther south that are accustomed to extreme heat will be baking in abnormally high temperatures for this time of year. This includes Dodge City and Wichita, Kansas; Oklahoma City; and Amarillo, Midland and San Antonio, Texas.
People are reminded to never leave pets or children in a vehicle even if the windows are cracked. Use caution when touching door knobs, hand railings or other metal objects that have been in the sun.
Make sure to walk dogs during the early morning and evening hours to avoid burning their paws on hot pavement. This is also the best time to do outdoor projects or exercise.
If you must take part in physically demanding activities during the heat of the day, make sure to drink plenty of water, wear light-colored and loose-fitting clothing and know the signs of heat-related illnesses such as heat exhaustion and heatstroke.
The intense heat could fuel locally severe thunderstorms across the front range of the Rockies and adjacent High Plains on Sunday and Monday.
On Sunday afternoon and evening, a corridor from southeastern Montana to the Texas Panhandle may be rattled by damaging storms.
Late on Memorial Day, severe storms will again threaten this narrow corridor, as well as expand slightly farther east across the Dakotas, Nebraska and Kansas.
Damaging winds, large hail and excessive downpours will be the primary threats from the storms on both days, but isolated tornadoes are also possible.
People preoccupied with holiday cookouts, parades and memorial services should keep a close eye to the sky and be prepared to seek shelter if storms approach.