Repeated soaking storms to pelt central US with severe weather through midweek

AccuWeather
7/17/2018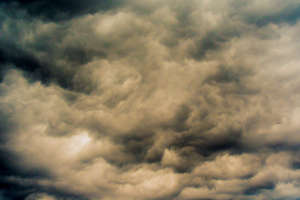 © Getty View of rain clouds in the sky, Emporia, Kansas, March 24, 2017. (Photo by Mark Reinstein/Corbis via Getty Images)
Rounds of thunderstorms packing torrential rain and gusty winds will erupt along a temperature contrast zone across the Great Plains through the middle of this week.
Complexes of thunderstorms are forecast to continue to develop and move southward and eastward through Thursday.
On occasion, the storms may ramp up quickly and become severe.
"The repeating and slow-moving nature of the storms combined with the high moisture content in the atmosphere will elevate the risk of flash flooding," according to AccuWeather Senior Meteorologist Mike Doll.
Flash flooding can occur in urban, suburban and rural areas.
The storms also have the potential to cause power outages from strong wind gusts and frequent lightning strikes.
"In one hour, during Tuesday morning, there were more than 2,000 lightning strikes in central Kansas alone," Doll said.
During Tuesday, areas at risk for thunderstorms with flooding rainfall and locally damaging winds will extend from southeastern Nebraska and southwestern Iowa to central and eastern Kansas, western Missouri, eastern Oklahoma and western Arkansas.
Cities at risk for disruptive storms on Tuesday include Wichita and Topeka, Kansas; Kansas City and Springfield, Missouri; Tulsa, Oklahoma; Fayetteville, Arkansas; and Omaha, Nebraska.
Motorists venturing along Interstates 29, 35, 70, 80 and 549 should be prepared to slow down due to sudden downpours and excess water on the roads into Tuesday evening.
During Tuesday night, as one complex of storms settles toward part of the southern lower Plains, another complex of storms may form farther northwest.
The Tuesday night storms have the potential to affect portions of eastern Wyoming, western South Dakota, western Nebraska, part of eastern Colorado and western Kansas. These storms may overlap areas hit by heavy rain from Monday night and Tuesday morning.
On Wednesday, yet another complex of thunderstorms is expected to stretch from the eastern part of the Dakotas and western Minnesota to Arkansas.
The greatest risk of storms with damaging winds is likely to extend from eastern South Dakota and southwestern Minnesota to eastern Nebraska, western Iowa and northwestern Missouri during Wednesday afternoon and evening.
From 7 p.m. to 10 p.m. CDT Monday, 1.72 inches of rain fell on Valentine, Nebraska. A few hours later, 1.82 inches of rain fell on Russell, Kansas, during a four-hour period early Tuesday morning.
Portions of southwestern Nebraska and northwestern Kansas received more than 2 inches of rain from the storms Monday night into Tuesday morning.
The storms will generally move along the boundary between cool and dry air in the Midwest and blistering hot and humid air over the southern Plains.