Rounds of severe storms, flash flooding to culminate with tornado threat in central US

AccuWeather
6/17/2019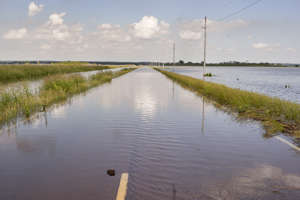 © ASSOCIATED PRESS In this June 4, 2019 photo, floodwaters from the Missouri River cover a road in Fort Calhoun, Neb. The amount of water being released into the lower Missouri River from upstream dams will remain at a high level for several months because of recent heavy rain and remaining snowpack. The Army Corps of Engineers says it expects water releases from reservoirs on the Missouri to be above average through the summer and possibly until November. Currently the amount of water that's being released from Gavins Point Dam on the Nebraska-South Dakota border stands at 75,000 cubic feet (2,124 cubic meters) per second, which is more than twice the average release of water for this time of year. (AP Photo/Nati Harnik) Following clusters of severe thunderstorms that will unleash localized flooding through Tuesday, a more widespread severe weather episode that may unleash tornadoes is likely on Wednesday in part of the central United States.
Into Tuesday night, the weather pattern will produce complexes of heavy, gusty and locally severe thunderstorms over parts of the Plains and the Mississippi, Ohio and Tennessee valleys.
The main threats from these storms are likely to be frequent lightning strikes, strong wind gusts, hail and flash flooding.
While a tornado may briefly spin up in the strongest thunderstorms into Monday evening, tornadoes are likely to be very isolated.
Severe storms will focus from northeastern New Mexico and the Texas Panhandle to southwestern Nebraska and southeastern Wyoming into Monday evening.
"In this area of the High Plains, storms may produce hail that can cover the ground and a few wind gusts in the neighborhood of 70 mph," according to AccuWeather Meteorologist Jake Sojda.
Farther to the east, locally heavy storms may briefly approach severe levels from southeastern Missouri, western Tennessee and northern Mississippi to eastern Kentucky with a pocket of severe storms likely in the mid-Atlantic region into Monday night that could trigger substantial airline delays.
On Tuesday, severe thunderstorms are most likely to erupt from west-central Texas to central and western Kansas during the afternoon and evening hours.
A few of these storms may produce large hail, wind gusts to 70 mph and flash flooding, as well as a few isolated tornadoes.
The risk of severe weather may ratchet up another level or two on Wednesday as a storm system develops over the central Plains and strengthens as it moves eastward.
The severe weather threat is forecast to extend from the lower Ohio Valley through part of the middle and lower Mississippi Valley and a portion of the southern Plains at midweek.
"Storms are likely to pack a punch with damaging wind gusts and hail, but it is possible the situation evolves into a threat for multiple tornadoes on Wednesday," Sojda said.
"Should the storm strengthen quickly and there is sufficient sunshine to heat the region ahead of the thunderstorms, a violent severe weather outbreak that includes tornadoes may result."
AccuWeather meteorologists will continue to monitor the situation closely.
The same storm system is likely to pull the risk of severe thunderstorms and perhaps a tornado threat farther to the east Wednesday night and Thursday over parts of the Appalachians and mid-Atlantic region.
River flooding eases; Flash flood threat continues
The river flooding situation is easing over the much of the Mississippi, Missouri and Arkansas basins. Waters over most of these rivers are receding or have already dropped below flood stage. Levels are still high over part of the middle and lower Mississippi, but they are not expected to rise in the short term.
Rainfall has not be as concentrated as that which prompted record or near-record flooding from earlier this spring.
However, any slow-moving downpour, let alone a large complex of thunderstorms, is likely to trigger flash, urban and small stream flooding from the Plains to the Midwest and mid-South.
A few pockets of quick river flooding can occur where thunderstorm complexes linger, such as the swath from north-central Texas to central Missouri.
Some rises are likely on the Ohio River and there is the potential for flooding along some of the secondary rivers in Indiana, Ohio, West Virginia and Kentucky in the weather pattern through this week.
Some of these rivers empty into the Ohio River and other flow northward and empty into the Great Lakes.
Download the free AccuWeather app for more precise details on the forecast for your area, including severe weather watches and warnings. Keep checking back for updates on AccuWeather.com and stay tuned to the AccuWeather Network on DirecTV, Frontier and Verizon Fios.