Severe storm, flood threat to ramp up in Texas, Deep South through Thursday

AccuWeather
4/24/2019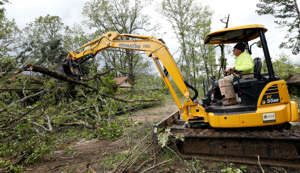 Residents from Texas to Louisiana and across the lower Mississippi Valley are being put on alert for violent thunderstorms and an increased risk of flash flooding through Thursday.
The storm system triggering the dangerous weather is the same one that caused nearly three dozen reports of wind and hail damage across western and northern Texas on Tuesday.
"In addition, the Dallas-Fort Worth Metroplex was hit hard with flooding rain on Tuesday night, with over 1.50 inches of rain falling in just one hour's time in Fort Worth on Tuesday evening," AccuWeather Meteorologist Brett Rathbun said.
Rathbun added that after a relative lull in the storms Wednesday morning, another round of storms capable of producing more gusty winds and flooding will threaten the Metroplex later Wednesday afternoon and evening.
The greatest threat for severe weather will exist in central Texas during the daylight hours on Wednesday and shift into eastern and southeastern Texas Wednesday night.
Residents from San Antonio to Waco, Dallas and Fort Worth will also face the greatest flood risk into Wednesday evening, coinciding with the additional threats of damaging winds, hail and tornadoes from the storms.
Parts of western and northern Texas received upwards of 5 to 6 inches of rain from Tuesday into Tuesday night alone.
"Travel along the Interstate-35 corridor from Dallas to San Antonio will be extremely difficult to at times dangerous for the evening commute on Wednesday," said Rathbun.
Motorists traveling along interstates 10 and 20, as well as on secondary roadways, are also likely to experience major delays and should be sure to turn around if encountering a flooded roadway.
It only takes about a foot of water to float many vehicles, and 2 feet of moving water will sweep most vehicles away.
In addition, many streams and rivers from eastern Texas into the Deep South are already in minor to moderate flood stage. This includes virtually the entire length of the Mississippi River.
The additional rain to come through Thursday will only exacerbate the ongoing flooding problems and could cause major flooding on some creeks and rivers.
Texas Flooding Static
© Provided by Accuweather, Inc
An AccuWeather Local StormMax™ of 8 inches is expected in parts of central and northern Texas.
"During the overnight hours Wednesday, thunderstorms will race through Houston and threaten the city with damaging winds, downpours and potentially even a tornado," Rathbun warned.
Inbound and outbound flights are likely to be delayed or possibly even diverted to other airports as the severe thunderstorms roll through, he said.
By Thursday, the threat for severe weather will shift eastward into Louisiana and parts of Mississippi.
While the risk for tornadoes is forecast to be lower on Thursday than on Wednesday, an isolated tornado or two certainly cannot be ruled out, especially in southeastern Louisiana and southern Mississippi.
As the storm system picks up its forward speed, rainfall amounts will be somewhat lower than on Wednesday, but can still exceed 2 or 3 inches in the hardest-hit locations.
The most far-reaching impacts on Thursday will be from strong winds and hail, both of which can destroy crops, cause roof and property damage and injure anybody caught outdoors when the storms roll through.
People that lie within the threat zone through Thursday should monitor the latest severe weather watches and warnings and be sure to move indoors, away from doors and windows, at the first sign of thunder.
When you can hear thunder, you are close enough to be struck by lightning.
As the energy supporting the storm system lifts northward into cooler air across the central Appalachians and mid-Atlantic on Thursday night and Friday, the threat for severe weather will be drastically reduced in comparison to Wednesday and Thursday.
Still, a few heavy, gusty thunderstorms may threaten to spoil outdoor plans and knock around loose objects from southeastern Virginia to Georgia and northern Florida on Friday.
Dry and pleasant weather should then settle over the entire southern United States this weekend as the storm track shifts farther north across the central and northern parts of the nation.
Download the free AccuWeather app to see when severe thunderstorms may threaten your community. Keep checking back for updates on AccuWeather.com and stay tuned to the AccuWeather Network on DirecTV, Frontier and Verizon Fios.