Significant snow, ice threat looms in northeastern US on Presidents Day weekend

AccuWeather
2/14/2018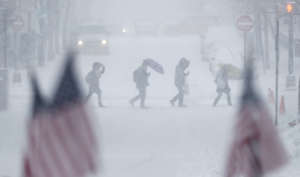 © AP Photo/Julio Cortez File photo: New Jersey Following a taste of spring late this week, residents from the Virginias to New England should be wary of a significant winter weather threat this weekend.

After cooler air returns to the East on Friday, a storm system will form in the Deep South and move northeastward along the boundary separating colder air to the north from springlike air across the Southeast.
The exact track of the storm will determine which locations will receive the heaviest snow and those that will get a mix of snow, ice and rain.
There are two possible outcomes, both with major implications on weekend holiday travel plans.
"The first scenario is for the storm to track closer to the Northeast coast and strengthen more quickly, bringing heavy precipitation to much of the Northeast and New England," said AccuWeather Meteorologist Ryan Adamson.
"This would likely favor snow in New England and the interior mid-Atlantic, with mixed rain and snow along the Interstate-95 corridor from New York City to Washington, D.C.," he added.
In this case, the heaviest snowfall would stay north and west of the big cities, with the greatest travel impacts felt along the corridors of interstates 76, 80, 81 and 90.
"The second possibility is that the storm does not strengthen until it is farther offshore and takes a track farther to the south," Adamson added.
New England and much of the interior Northeast would be spared from a significant snowfall if this were to happen.
However, a significant snowstorm would slam the major cities along the I-95 corridor with rain or a mixture of rain and snow from central Virginia to the Delmarva Peninsula and Tidewater regions, Adamson warned.
A stronger push of colder air on Friday and Saturday would suppress the storm system farther south and result in this second outcome.
At this point, the first scenario appears more likely than the second, with the greatest impacts from central Pennsylvania through interior portions of New York and New England.
It is too early to speculate on how much snow may fall, but the potential exists for enough snow to fall to cause major airport delays and slick, slippery roadways.
Anyone with travel plans this weekend should monitor the latest updates from AccuWeather meteorologists and be prepared for significant travel delays and dangerous conditions on both primary and secondary roads, especially spanning Saturday night and Sunday.
For those ready for springlike conditions, the overall weather pattern behind this storm will transition to one that brings May-like warmth to the East and cold, unsettled conditions to the West next week and possibly beyond.