Slow-moving Florence batters NC with heavy flooding, power outages
Tribune News Service
9/14/2018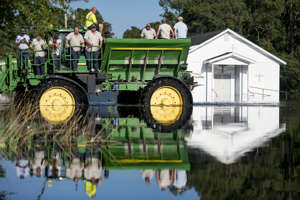 Gallery by photo services
CHARLOTTE, N.C. - Hurricane Florence delivered a slow-motion assault to the coast of North Carolina early Friday, with catastrophic storm surge and torrential rains that will continue for days.
The storm made landfall at Wrightsville Beach at 7:15 a.m., with maximum sustained winds of 90 mph, according to the National Hurricane Center. But Florence, a Category 1 hurricane when it hit, already had pounded coastal areas for hours.
The enormous storm crept at a 6 mph pace, making it clear that the trouble was just beginning.
By 5 a.m., about 200 people had been rescued from flooded homes in New Bern, where the National Weather Service reported 10 feet of inundation. People were stuck in their cars, attics and rooftops, waiting for rescuers in boats. A woman named Bree tweeted: "If anybody could help ... our cars is under water and so is our house stuck in attic. Phone about to die please send help to 611 Watson ave, new bern. NC"
A friend later tweeted that the woman and her family had been rescued.
That kind of scenario is likely to repeat itself all over communities in Eastern North Carolina, as swollen rivers flood towns and the pouring rain adds to the misery.
The National Hurricane Center described Florence's path as a wobble around southeastern North Carolina.
Video by CBS News
But the size of the storm meant the path didn't really matter. Hurricane-force winds were extending out up to 80 miles from the center, and tropical-storm-force winds extended up to 195 miles, the center said.
Rescue crews in Onslow County helped evacuate 70 people from a Jacksonville hotel early Friday after the roof collapsed and rain rushed in.
Onslow County spokesman Cornelius Jordan said some visitors at the Triangle Motor Inn were able to drive away on their own, but emergency personnel had to take others to a safe location. Emergency crews also rescued an Onslow family from their home where a tree fell through the roof, Jordan said.
Power outages increased throughout Friday morning. By 9:30 a.m., more than 500,000 customers were without power across North Carolina, and the Triangle had begun to experience outages. More are expected, as the storm could bring winds up to 45 mph around the area, according to Durham County emergency management officials.
The Triangle is under a flash flood warning until 8 p.m. Sunday.
Thousands of people hunkered down in schools, shelters and a coliseum in Winston-Salem. They had heeded officials' warnings that the storm was treacherous, with record-setting rains and storm surges not seen in North Carolina in decades.
Others, though, decided to stay at home and perhaps regretted their decision. The Neuse River rose rapidly, overcoming the streets of New Bern.
Craven County emergency crews put out the message to people stranded to shelter in place, as 150 people were waiting for help before midnight Thursday. Additional swiftwater rescue teams were on the way.
"WE ARE COMING TO GET YOU," the city of New Bern tweeted around 2:30 a.m. "You may need to move up to the second story, or to your attic, but WE ARE COMING TO GET YOU."
Craven County spokeswoman Amber Parker said in some areas, water had topped mailboxes and had filled the first and second floors of homes in some low-lying places.
"This storm has been hovering over us for a while, and we expect it to continue to hover over us," Parker said. "Lots of water, lots of wind, lots of storm surge."
Visit The Charlotte Observer (Charlotte, N.C.) at www.charlotteobserver.com