Soaking, wintry storm to overtake eastern US at midweek

AccuWeather
2/17/2019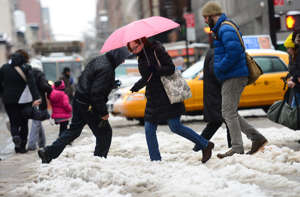 © EMMANUEL DUNAND/AFP/Getty Images People cross a street after an overnight snow storm followed by freezing rain in New York, February 5, 2014. Following some quick-hitting iciness late on Sunday, a much larger storm is poised to roll up the Eastern Seaboard, bringing wintry weather to the Midwest and Northeast at midweek.
"Since this storm will have a great deal of moisture available to it from the Gulf of Mexico and the Atlantic Ocean, a substantial amount of precipitation is likely," said to AccuWeather Meteorologist Tyler Roys.
While rounds of heavy, flooding rainfall and even some severe thunderstorms are expected to impact the Deep South, it will be cold enough for wintry precipitation to form over areas from northern Texas to Minnesota and Maine.
According to Roys, snow will first develop on Tuesday across Kansas before spreading northeastward Tuesday night into Wednesday.
"Kansas City, Omaha, Des Moines, Minneapolis and Duluth could all receive several inches of snow," he said.
"As the moisture reaches the mid-Atlantic on Wednesday, it will be cold enough at the surface for snow from Washington, D.C. to New York City."
Anyone hitting the road during these times should travel with extreme caution, and pad extra time into their travel plans. Along with low visibility in areas of snow, roads can quickly become slick and snow-covered, leading to treacherous conditions and traffic slowdowns.
After receiving a few inches of fresh snow, residents across the mid-Atlantic, New York and southern New England will notice sleet and freezing rain mixing in with the snow.
This wintry mix will make the existing snowcover heavier and harder to clear, along with perpetuating slippery conditions on cleared roads and sidewalks.
"There could be significant accumulation of ice across parts of western Virginia, West Virginia and south central Pennsylvania," Roys warned. "An ice storm is also possible across interior portions of southern New England Wednesday night into Thursday."
In areas where ice accrues on trees and powerlines, snapped branches and power outages are likely. Aircraft deicing and low visibility conditions can lead to delays and cancellations out of major hubs such as Chicago, Washington, D.C., New York and Boston.
As milder air surges into the region, rain will be the last thing to fall across much of the mid-Atlantic late Wednesday into Thursday.
Download the free AccuWeather app to stay up-to-date to see when snow, sleet and ice will begin in your area.