Southeastern US to remain steamy and stormy this week

AccuWeather
6/23/2018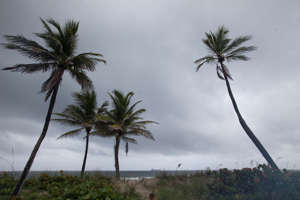 © Wilfredo Lee/AP Photo Empty beaches and low-hanging clouds are shown, Friday, May 25, 2018, at Fort Lauderdale Beach in Fort Lauderdale, Fla.
Anyone in the Southeast hoping for a break in the warm, humid and unsettled weather will need to wait at least another week.
As is typical for this time of year, areas from the central Gulf Coast through the Tennessee Valley, Carolinas and Florida will continue to be inundated by daily rounds of drenching thunderstorms.
"High moisture content and unstable air will aid in thunderstorm development each afternoon," said AccuWeather Meteorologist Brett Rossio. "These storms will likely be slow moving and can potentially produce flash flooding."
Any single storm this week will be capable of dropping 3-4 inches of rain over the course of just a few hours.
"These storms will likely be slow moving and can potentially produce flash flooding," warned Rossio.
Regardless, this week is not expected to be a washout and widespread flooding is not anticipated. In fact, a few places could make it through the week without experiencing any storms.
In addition to heavy rainfall, any thunderstorm will be capable of producing dangerous lightning conditions and gusty winds.
Remember, if you can hear thunder, you are close enough to be struck by lightning and should seek proper shelter immediately.
Temperatures will also continue to reach to near or above 90 F each afternoon this week, with dew points of at least 70 F guaranteeing humid days and muggy nights.
Anyone planning to exercise outdoors should plan their runs, hikes and walks for the early morning or evening hours when the sun is at its lowest angle and conditions are a bit cooler.
Everyone should make sure to stay hydrated and wear proper sun protection at all times.