Tropical Rainstorm Beryl to soak Hispaniola to Cuba; Will it strengthen again near Bahamas?

AccuWeather
7/10/2018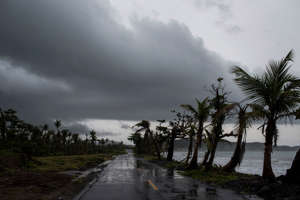 While Beryl poses no threat from wind in the short-term, it has the potential to spread enough rain to cause flash flooding and mudslides to Hispaniola through Tuesday.
"Beryl weakened quickly from a hurricane to a robust tropical wave this past weekend, according to AccuWeather Hurricane Expert Dan Kottlowski. "AccuWeather is classifying Beryl as a tropical rainstorm," he said, though it may still produce a few strong wind gusts.
Beryl is likely to remain disorganized as it navigates the mountainous terrain of Hispaniola into midweek. 
"There is a chance that Beryl reorganizes over warm water and a zone of low wind shear late this week and into this weekend," Kottlowski said.
Wind shear is the increase in the speed of wind with altitude. High wind shear can lead to the demise of tropical systems, as AccuWeather predicted with Beryl this past weekend.
Heavy rainfall poses greatest threat to lives, property
Parts of Puerto Rico had received more than 5 inches of rain from from Beryl. The heaviest rainfall occurred in the southeastern part of the state. Peak wind gusts were 48 mph at San Juan.
The worst of the storm had moved by Puerto Rico as of Tuesday morning.
Puerto Rico Gov. Ricardo Rosselló announced that the State of Emergency had been lifted.
Beryl will affect Hispaniola, as well as the Turks and Caicos on Tuesday and Tuesday night.
A general 2-4 inches of rain with local amounts of 6 inches or more is forecast in parts of the Dominican Republic and Haiti into Tuesday night.
While flash flooding can occur anywhere in the swath of rainfall from Beryl, mountainous terrain on Hispaniola will increase the risk of rapid runoff.
Some of the protected vegetation canopy was damaged by hurricanes last year. Because of this and damaged drainage systems, runoff may be much more significant and cause more trouble than would otherwise occur with rainfall of this magnitude.
"Residents should take precautions to stay safe and out of harm's way," according to Dr. Joel Myers, founder, president and chairman of AccuWeather.
Downpours and locally gusty winds are forecast to spread northwestward from the Turks and Caicos and eastern Cuba into the central Bahamas on Wednesday and the northern Bahamas by Thursday.
People should heed all advisories, keep away from small streams, avoid flood-prone, low-lying areas and avoid traveling along secondary roads on the hillsides of the mountains until the storm has passed.
Never attempt to drive through flooded areas. The water may be much deeper than it appears. The road surface beneath the water may have been washed away. Less than 2 feet of moving water can sweep a vehicle downstream.
While winds are not currently a great concern with Beryl, locally strong squalls can develop and pose a hazard to small craft, well away from the center.
Chance that Beryl may regenerate near the Bahamas
Beyond the Caribbean, Beryl could become more of a wind and wave threat if it regenerates near and north of the Bahamas late this week and this weekend.
"Steering winds are forecast to turn Beryl toward the north, then the northeast this weekend," Kottlowski said. "Beryl could track close to Bermuda in the long-range."
While this projected path would likely keep Beryl away from the U.S., a new round of rough surf and seas in the wake of Chris could occur if Beryl reorganizes into a strong tropical storm or hurricane offshore.
When will conditions improve?
Conditions will slowly improve over Puerto Rico and the United States and British Virgin Islands through midweek.
Waters may be too rough for swimmers along some of the beaches of Hispaniola and the Turks and Caicos until the end of the week.