U.S. forecaster sees 80 percent chance of El Niño during winter

Reuters
11/8/2018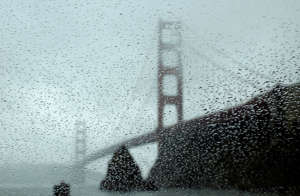 © Eric Risberg/AP Photo rain drops bead on a car window below the Golden Gate Bridge in Sausalito, Calif. Nearly a dozen days of rain have doused Northern California this month and more soakings are in store before February rolls around, while Southern California more or less has gotten short-shrift from the El Nino-backed storms, forecasters said Thursday, Jan. 21. The storms aren't yet enough to end California's four-year dry spell. There is an 80 percent chance of the El Niño weather pattern to form and continue through the northern hemisphere in winter 2018/19, a U.S. government weather forecaster said on Thursday.

Last month, the weather forecaster pegged the chances of the El Niño emergence at 70-75 percent for the winter.
For spring next year, there is a 55-60 percent chance of El Niño forming, the forecaster said.
"The official forecast favors the formation of a weak El Niño, with the expectation that the atmospheric circulation will eventually couple to the anomalous equatorial Pacific warmth," the National Weather Service's Climate Prediction Center (CPC) said in a monthly forecast.
The last El Niño, a warming of ocean surface temperatures in the eastern and central Pacific that typically occurs every few years, occurred from around 2015 to 2016 and caused weather-related crop damage, fires and flash floods.
(Reporting by Sumita Layek in Bengaluru; Editing by Bernard Orr and Saumyadeb Chakrabarty)