Ukraine remembers Stalin-era famine after 85 years

AFP
24/11/2018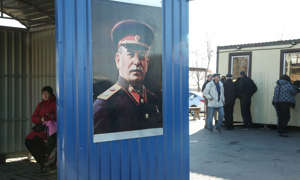 © Mikhail Tereshchenko\TASS via Getty Images A portrait of Joseph Stalin on a bus stop at the Aleksandrovka crossing on the Russian-Ukrainian border in a file photo Ukrainians on Saturday marked 85 years since millions died in a Soviet-era famine that many now regard as a genocide ordered by then leader Joseph Stalin.
The 1932-33 famine took place as harvests dwindled and Stalin's police enforced a brutal policy of requisitioning grain and other foodstuffs from farms.
Historians differ on the scale of the death toll, with estimates ranging from four million to 10 million.
Accompanied by hundreds of Ukrainians, President Petro Poroshenko laid symbolic sheaves of wheat and lit candles at a central Kiev monument to famine victims -- known as Holodomor, or death from hunger in Ukrainian.
The famine was "man-made," the president said in a statement.
"We must always remember the terrible crimes carried out on Ukrainian soil by the Communist regime," he said.
The famine was "a genocide of the Ukrainian people", Oleksandr Turchynov, head of Ukraine's Security and Defence Council said in a statement, blaming the Soviet leadership.
Related slideshow: Pictures of the week (Provided by Photo Services)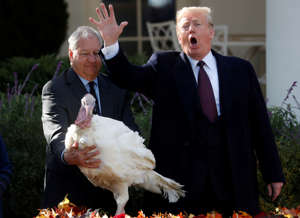 He compared it to Russia's role in Ukraine's eastern region where Kiev's forces are fighting Moscow-backed separatists.
"Today fighting is going on once again on Ukrainian land. And ... the Kremlin is the main culprit in the tragedy," he said.
The conflict between Russian-backed fighters and Ukrainian troops has killed more than 10,000 people since 2014.
Pro-Russian forces declared parts of eastern Ukraine independent following Moscow's annexation of Crimea in March, 2014.
Kiev and the West accuse Russia of funnelling troops and arms across its border with Ukraine. Moscow denies the claims, despite overwhelming evidence to the contrary.
Nearly 20 countries have also recognised the famine as an act of "genocide" against the Ukrainian people, in a move that irritates Moscow.
Russia's foreign minister Sergei Lavrov on Saturday said that the famine was a "shared tragedy."