Powerful Caribbean earthquake shakes buildings in Jamaica, Cuba — even downtown Miami

Miami Herald
28/01/2020
MIAMI — A powerful magnitude 7.7 earthquake struck 86 miles northwest of Jamaica on Tuesday afternoon, sending seismic energy that could be felt throughout the Caribbean and as far as coastal Florida.
At 2:10 p.m., the quake struck about six miles beneath the surface in the open water between Jamaica and Cuba, triggering brief tsunami warnings for multiple Caribbean nations and causing buildings from Jamaica to Miami to shake.
© Joe Raedle/Getty Images North America/TNS People wait outside after evacuating office buildings after an earthquake struck south of Cuba on January 28, 2020 in Miami, Fla. Mercedes Ferrera, a volunteer at the Archdiocese of Santiago de Cuba, said the tremor was stronger than usual.
"It was very strong, and people here are sensitive about this issue," she said over the phone from Santiago de Cuba, the island nation's second largest city and a zone prone to tremors. She said she noticed this one was "too long" because she had time to run two flights down from her office at the Archdiocese to the street while the earth was still shaking.
"Everyone who could run to an open, secure space in the streets, did so," she said. The religious building did not suffer damages, and she was making calls to other old churches in the area to find out their situation.
In Jamaica, residents also reported tremors lasting about a minute. But in Kingston, while buildings were rattled, some workers on the roof of a five-story building continued their activities despite the shaking. Desmond McKenzie, the local government minister in Jamaica who oversees the Office of Disaster Preparedness and Emergency Management, said his office was collecting whatever information it could.
"So far there are no reports of any damage that we can say of concern," he told the Miami Herald.
In the Bahamas, the tremors were felt all along Bay Street in downtown Nassau.
James Smith, former minister of state for finance and current chairman of investment management firm Colina Financial Advisors Ltd., said when he started feeling the tremors, he initially thought he was having a heart attack.
"You felt the movement in the building but very slight," he said. "Of course having never experienced anything like that before, you spend a long time trying to figure out what's happening."
Smith also added that the tremors were small and could not have lasted more than a minute. "It definitely shook the building but not in a dramatic way."
Related slideshow: News in pictures (Provided by Photo Services)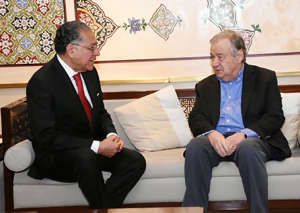 Erica Wels, the spokeswoman for Bahamas Prime Minister Hubert Minnis, said that "as a precautionary measure, all government offices were closed today," following the tremors.
The force reached South Florida, causing downtown Miami skyscrapers to sway and workers to evacuate. Employees streamed out of several offices, including the 29-story administrative headquarters of Miami-Dade County's government, the Stephen P. Clark Center. Some told the Miami Herald they felt confused when their buildings began to move, leaving them wondering if they'd fallen ill.
Some county workers chose to leave, but the building did not order an immediate evacuation, said Tara Smith, head of the county's Internal Services Department. But by 3 p.m., the city's Fire Department ordered a full evacuation "as a precaution," Smith said.
Emergency officials with vast experience dealing with hurricanes huddled to weigh the closure of the county's Metrorail commuter train and the smaller Metromover service. By late afternoon, both services remained open.
The Stephen P. Clark Center was evacuated, according to Miami-Dade police. So were some buildings in the Brickell area, according to Miami police.
Miami police also said there have been no injuries or road closures.
Lawyer Eli Stiers was in his office in the penthouse of Museum Tower, across from the Miami Dade Cultural Center. Around 2:20 p.m. or so, he felt something strange.
"I'm sitting in my office and started to feel a very slight sway," Stiers said. "I didn't know whether I had some bad sushi for lunch or what. But then I looked at my office door and saw it teetering on its hinges. I asked people in the office if they felt it. When people stopped for a second and registered what was going on, they said yes, the building is moving."
They called the building manager, who had also felt the tremor. An evacuation of the building was ordered.
"We said, 'Let's get out of the building.' We all went downstairs. We didn't know whether it was an earthquake or a sinkhole or what."
The quaking lasted two to three minutes, Stiers said. A short while later, the fire marshal gave an all-clear and everyone went back to work.
"It's crazy that we would feel this that far away," Stiers said.
Ryan Gold, a research geologist with the U.S. Geological Survey, said it is "completely reasonable for people to feel it in Florida."
"It's a very large earthquake which can produce a lot of seismic energy," he said.
The Geological Survey tracks reports from people who felt shaking because of the earthquake. The map shows that reports came in from across the state with more than 20 in the Miami Beach area.
There were at least two reports in Tallahassee and one near Pensacola. Reports were called in from both the east and west sides of the state.
While people may have felt some shaking, Gold said, the effects were likely not strong enough to cause any damage. He said there could be some aftershocks near the epicenter, which also has the potential to be felt in South Florida.
Miami Mayor Francis Suarez said city officials felt the quake in the city's emergency operations facility, located a short walk away from the county government center. The center was already operating due to the influx of visitors for the Super Bowl, which will be played Sunday at Hard Rock Stadium in Miami Gardens. The players of the San Francisco 49ers, no strangers to earthquakes, are staying at the JW Marriott Marquis downtown.
"We have inspectors ready for property owners who want to make sure the integrity of their buildings have not been compromised," Suarez said.