Russian, Iranian foreign ministers discuss Iran nuclear deal

TASS
23/11/2018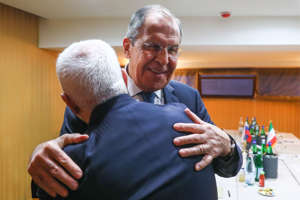 © Alexander Shcherbak\TASS via Getty Images ROME, ITALY - NOVEMBER 23, 2018: Russia's Foreign Minister Sergei Lavrov (background) and Iran's Foreign Minister Mohammad Javad Zarif during a meeting. MOSCOW, November 23. /TASS/. Russian Foreign Minister Sergey Lavrov and Iranian Foreign Minister Mohammad Javad Zarif have discussed the situation around the Joint Comprehensive Plan of Action (JCPOA) on the Iranian nuclear program on Friday during the Mediterranean Dialogues international conference in Rome, a statement by the Russian Foreign Ministry informs.
"[The ministers] have analyzed the state of affairs concerning the Joint Comprehensive Plan of Action on regulating the situation around the Iranian nuclear program. Views on Syrian regulation continued to be exchanged," the Russian Foreign Ministry noted.
The ministers also discussed "current issues of bilateral cooperation."
Related slideshow: News in pictures (Provided by Photo Services)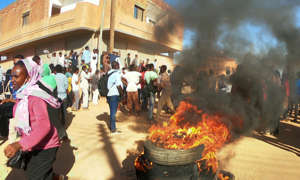 Iran nuclear deal issue
In 2015, Iran and six major powers (five member states of the United Nations Security Council - Russia, the United States, France, the United Kingdom and China - and Germany) agreed on the final Joint Comprehensive Plan of Action (JCPOA), which particularly stipulated the removal of sanctions imposed on Tehran over its nuclear program.
On May 8, US President Donald Trump announced Washington's withdrawal from the Iran nuclear deal. He said that old sanctions on Iran would be restored and new ones would be introduced in case Tehran attempted to pursue its nuclear ambitions. The first round of new US sanctions on Iran took effect on August 7, and the second one came into force on Monday.
Following Trump's decision to pull out of the JCPOA, the leaders of Great Britain, Germany and France called on other participants in the deal to continue fulfilling it. Iranian President Hassan Rouhani said that Tehran would not abandon the JCPOA and would continue to comply with its obligations. Lavrov said that Russia would seek to maintain the agreement despite US sanctions against Iran.