Can you see your dad in Shah Rukh Khan's many avatars for new ad? Watch video

Hindustan Times
2018-09-14
Trust Shah Rukh Khan to look adorable as a dad no matter what costume he puts on. The Bollywood superstar appears as a South Indian, Gujarati and Bengali dad in a new advertisement and he is as cute as ever.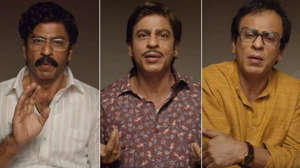 In the first part of the video, Shah Rukh appears in curly hair and shows off a fierce crop of body hair as a strict South Indian father. In the next bit, he has a paunch and his fingers are loaded with gold rings as he plays a confused Gujarati dad. In the third bit, Shah Rukh has a receding hairline and he pulls off the look perfectly. He plays a dismissive Bengali dad with big frame glasses, dressed in a yellow kurta. In the final bit, he appears as his dapper self in a tuxedo and stylish hair.
The advertisement is for an online learning app for kids and Shah Rukh shared the video on Thursday in a tweet. "Papa kehte hain...," he wrote in his tweet.
Speaking of drastically different looks, Shah Rukh will soon appear as a dwarf in Anand L Rai's next movie, Zero. He will be joined by actor Katrina Kaif and Anushka Sharma in the film which will also have a cameo from Salman Khan and a star-studded special song as well.
Also watch: Big honour for Shah Rukh Khan
(Video by The Times of India)
Shah Rukh on Tuesday treated his fans to a question and answer session, where a user asked him about his motivation to work hard. "Don't know about motivation. But working has become second nature to me," Shah Rukh replied.
A Russian fan asked if Zero will release in their country, the 52-year-old star said: "Yes, I hope it releases there soon." Talking about how Zero is shaping up, he tweeted: "Audience has to be happy not me. I just do my best and leave the rest."
Don't miss: From shining Bollywood star to daddy dearest
(Slideshow by Mid-day)
Download the Microsoft News app for your Android or iPhone device and get news & live updates on the go. Follow our Entertainment section in English and Hindi.