Bonang Shuts Down Haters

Zalebs
2019-03-22
It looks like the Queen of Everything, Bonang Matheba, who has been on a major high this week, has yet another troll trying to catch her slipping up - but that's of course something we won't catch her doing anytime soon.
Bonang found herself at the centre of another social media storm over a spelling mistake on the label of her latest bubbly range.
The commotion started when B took to Instagram Stories to post about her new Methode Cap Classique (MCC) range, called House of BNG.
Her detail focused fans spotted that the word elegant was misspelt on the label and soon shared comments about it on social media. 
Bonang has a Typo Of "Elegant" on her bottle .. 💔

How did they not proof read such a big product. 😐 pic.twitter.com/XzHeVL56gi

— . (@Thabang_Mdluli) March 20, 2019
Bonang's team notified the public that this error was done during production and in has in fact only affected a small batch of her product. 
Bonang's manager, Davin Phillips made the following statement:
"The bottle with the error was part of a smaller batch, a consignment of about 100 bottles, that were pushed out after a large amount of demand for the product. It has been rectified and all stores should have the correct spelling."
He also added that the bubbly sold out on the Woolworths' website within two hours of its launch and that new stock with the correct spelling was being delivered each day.
Meanwhile, the Queen made sure to take control of the situation on social media and might we add, that the lady handled it like a boss. 
Super grateful. The taste. The launch. The brand. The online assets. The execution. The entire product....at the end of the day, the ONLY thing I got wrong, is that an 'e' isn't an 'a'.... I did good! #HouseOfBNG

— Bonang B* Matheba (@bonang_m) March 21, 2019
Next batch will be perfect. 👌🍾🥂 Thank you so much. https://t.co/HrK3Nhin5z

— Bonang B* Matheba (@bonang_m) March 21, 2019
An 'e' isn't an 'a'. They discussed it all day.

— Bonang B* Matheba (@bonang_m) March 21, 2019
I'm gonna name my new white wine 'Elegent'. Watch.

— Bonang B* Matheba (@bonang_m) March 21, 2019
Now take a sip on that, trolls.
Main Image Credit: Twitter
SA's powerful female celebs (Provided by MSN)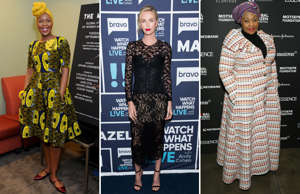 Download the Microsoft News app for your Android or iPhone device and get news & live updates on the go.