Idols SA Pretoria auditions

eNCA
2017-07-17
Idols SA Pretoria auditions were all sorts of crazy. Pretoria got 18 Golden tickets booking themselves a safe spot in the first round of Theatre Week.
Would-be stars gathered in the capital city on Sunday, as the singing competition Idols SA held a round of auditions. The State Theatre in Pretoria was packed to capacity with young hopefuls hoping to win over the judges.
Also read: Somizi's book a bestseller
Khaya Mthethwa, who won season eight of the singing competition, was a guest judge. His experience as a contestant saw him empathise with the singers, but without being a pushover.
Well damnnnnn... Ofentse ---- #IdolsSApic.twitter.com/5woapwWVzE

— Geegee Rantie ---- (@Gigirantie) July 16, 2017
Congrats to all 18, Golden Ticket recipients from Pretoria! Watch #IdolsSA on @DStv Catch Up if you missed out: https://t.co/SALOtLwjFLpic.twitter.com/uvnjYr0wlX

— Idols South Africa (@IdolsSA) July 16, 2017
Hadassah's bright & happy performance scores her four yeses! Did you love her version of "Love on Top"? https://t.co/o6jb7LNDXi#IdolsSApic.twitter.com/l3eBsAQyFi

— Idols South Africa (@IdolsSA) July 16, 2017
#IdolsSA---------- what is Pretoria doing thou pic.twitter.com/shPCu93Pct

— Ayanda Ralombe (@AyandaRalombe) July 16, 2017
I expected things to be bad in Pretoria but I didn't think they will end up to this level #idolssa -------- pic.twitter.com/gJvPXvSPsU

— ZAMA MVULANE® (@zmvulane) July 16, 2017
This episode of Idols SA was an indication of just how many people believe they can sing and who want to win.
Among those who auditioned were returnees, who thought they could convince the judges to give them a second chance.
Fashion hits and misses (Supplied by MSN)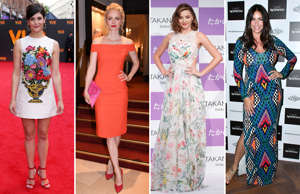 This week's fashion hits and misses from the A-list