The #1 Trick to Make the Best Eggs

Eat This, Not That!
2018-09-10
© Shutterstock Scrambled eggs There's nothing more uplifting than seeing a golden plate of light and fluffy scrambled eggs when you wake up in the morning. But forking into a pile of custardy goodness comes with a little technique and cooking knowledge. To start, you'll need the high-quality eggs. We recommend choosing grade AA eggs because they have the best ratios of thick whites to rounded yolks. Then, you'll need a whisk. The whisk is one of the most underrated cooking tools out there, but it's the secret to whipping up fluffy goodness.
Whip Your Eggs
Video: How Long Does It Take to Boil an Egg? (Cooking Light)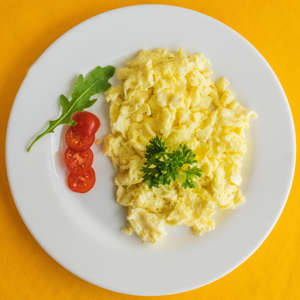 © Getty After allowing the butter to fully melt into the pan, pour your egg batter in and let it sit for a few seconds. Add your chopped veggies or shredded cheese before folding the eggs with a plastic spatula. Be sure to lightly push the eggs off the skillet and let it stir in the pan until bigger curds form. Pro tip: Kill the heat before your eggs are all cooked through. This helps you avoid overcooking them and turning them into a rubbery mess. Now, grab a plate and fork and lightly season the eggs again with pepper and salt before digging in! Check out these other mind-blowing ways to use your eggs.
Gallery: 20 Things You Didn't Know You Could Bake Eggs In (Delish)