This female CEO wants to tell every woman how to succeed at work

The Cut
2018-09-20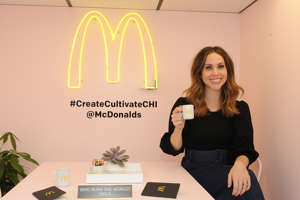 Jaclyn Johnson walks the walk when it comes to empowering female leadership in business.
One of the many observations about millennials is that, as a generation, they supposedly trend toward entrepreneurship. If the dream job doesn't exist—or isn't working out—they create their own. Not only is Create & Cultivate founder Jaclyn Johnson a shining example of that concept, she's teaching other women how to take their career paths into their own hands.
As CEO of the cultish conference series and website for "modern working women," she's empowering budding entrepreneurs with advice, resources, information, and community. This success cycle inspired Rolex, a brand created by and for leaders, to hand-select Johnson to share how she designed her own position of power.
The founder calls partnering with the iconic watchmakers an honour: "Rolex is such a legacy brand, and as someone who's trying to build a legacy, I think it's really relatable."
Fittingly, the idea for C&C was born out of Johnson's own unrealised work dreams. Building her résumé as a New York-based social media director in her early 20s, she went so far as to move to L.A. for her next great job. After being unexpectedly laid off in short time, she experienced an ensuing identity crisis.
"The narrative I'd built for myself was that I was a career gal," she says of climbing the corporate ladder."
The derailment of being letting go was heartbreaking. "I definitely was devastated and crying and kind of holed up in my pajamas all day long," she recalls. "Business is personal, one hundred percent."
Once Johnson found her motivation again, her comeback efforts started to gain momentum. She networked and freelanced, eventually racking up her own roster of marketing clients.
In 2009, she launched her own marketing agency, No Subject. At just 24, her main source of information for how to make her new venture successful came from other female founders who'd already found success—and the internet.
"I knew that there had to be other women out there who had to be feeling the same things I was feeling, going through the same things I was going through, and realised there was nothing online that looked, felt, and spoke to me as a creative female millennial," Johnson says.
In 2013, she started C&C as a side gig to fill this need, a resource and network for like-minded self-starters where they could ask questions and share their professional experiences.
Five years later, Johnson's turned the first C&C conference into a robust and popular content and experiential brand with nearly 300,000 Instagram followers. Celebrities and major influencers make up its annual list of 100 game-changing women. And the multi-million-dollar company is still scaling.
"It all ties back to the message of paying it forward to other women," she says. "We have women sending cards that say: 'The week after C&C Atlanta, I went into my office and asked for a raise, and I got it.'"
On her hardest days, she says, thinking back to those stories and the women behind them keeps her going.
When Johnson, now 33, sold No Subject last year, it was eight employees strong and boasted a roster of high-profile brands as clients. Her next focus is WorkParty, her first book and work manifesto, meant to spread her gospel of self-actualisation. (Corresponding tour and podcast to come.)
Answering her original calling to mentor and support women, she angel invests in women-owned startups, too. In this current moment of women's-empowerment messaging, Johnson proves that our best resource is each other—especially when the initial plan doesn't work out.